What do you think when we say "health and safety in the workplace"? Do you think hardhats? Do you think PPE? Or do you think about mental health?
It's time to think "psychological" when you think of health and safety. Because your employees – and your bottom line – need you to. After two years of pandemic life, employees are struggling with their mental health, and you want to do what's right. For them, and for your business.
You need expert advice, and you need a plan.  
Our Education team will work with you, however big or small your business. No matter what you do. We provide evidence-based training that is interactive and focused on solutions. We develop unique and catered learning experiences to create a workplace that's safe and healthy. Psychologically speaking.
Ask how the Canadian Mental Health Association Nova Scotia Division's education team can customize services to meet your training needs. We are happy to build out customized training sessions but here are some common topics in workplace mental health, including:
General mental health awareness and skill-building for employees
Leadership and management training
Burnout, stress and anxiety
Remote working, returning to work and coping with change
Building resilience and managing stress
Self-care and work-life balance
Psychological Health and Safety training for implementing the National Standard
Other issues in your workplace
Do right by your employees, while increasing productivity and worker retention and reducing absences and working while sick (presenteeism). Your work culture depends on it and so does your business. And we're here to help.
Contact our team today and get started on making your organization a psychologically healthier, more productive workplace.   
To learn more about our fee structures for training sessions contact Elizabeth Baker, Provincial Lead, Education and Training at elizabeth.baker@novascotia.cmha.ca. Non-profit rates are available for some training. We also encourage those who wish to, to pay it forward.
To learn how to pay a program forward, contact Erin Christie, Provincial Lead, Communications and Community Engagement at erin.christie@novascotia.cmha.ca.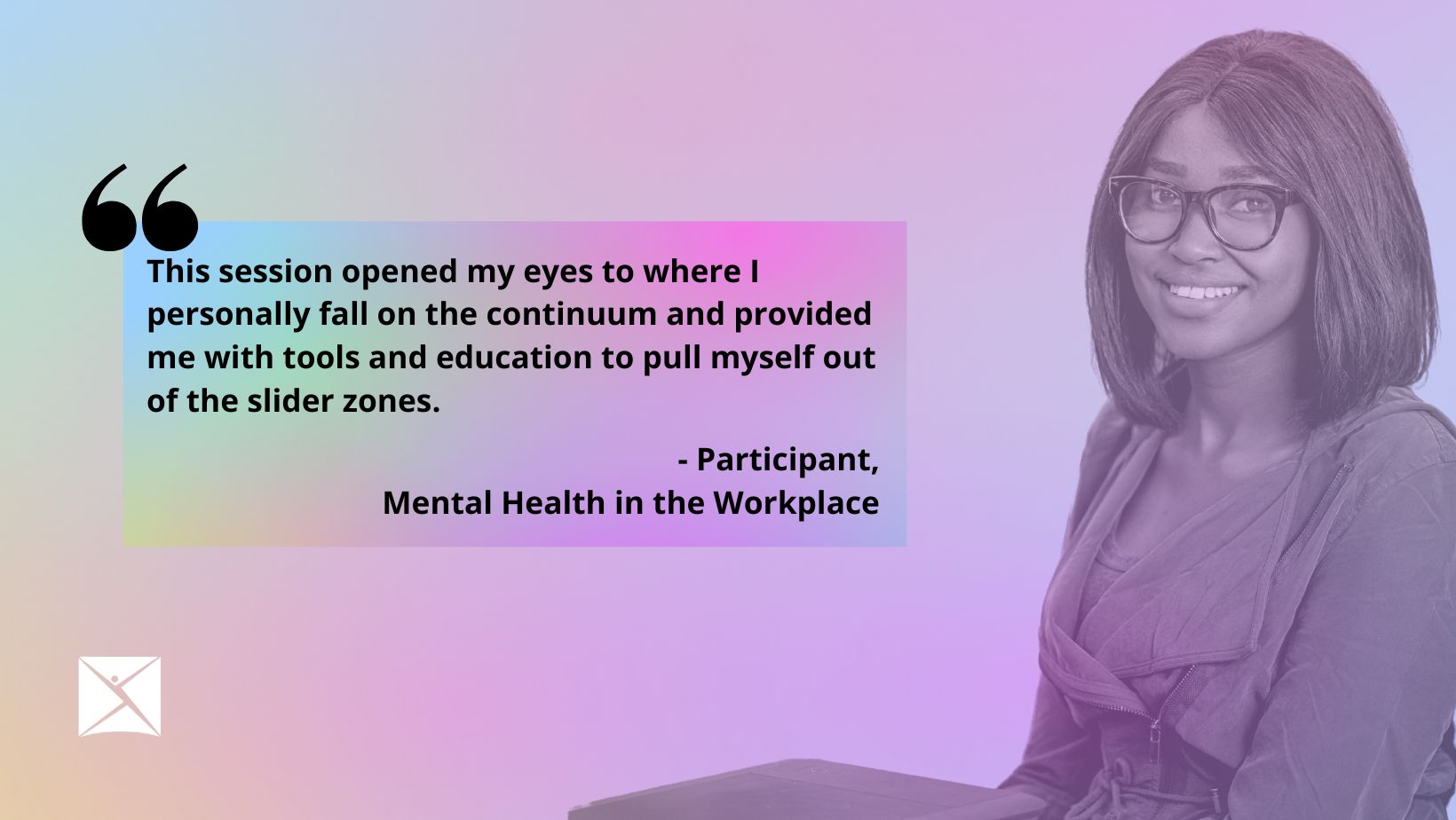 Applied Suicide Intervention Skills Training [
ASIST]

ASIST is a two-day interactive workshop in suicide first-aid. ASIST teaches participants to recognize when someone may be at risk of suicide and work with them to create a plan that will support their immediate safety.
Although ASIST is widely used by healthcare providers, participants don't need any formal training to attend the workshop—ASIST can be learned and used by anyone. Learn more
---
Changing Minds
In understanding an individual who has a mental illness we must first understand the illness, the impact of the illness on the individual, their family and their "fit" within their communities. Changing Minds is an innovative, multi-use mental illness education program. It was created in order to address a community need for mental health education, stigma reduction and to promote a better understanding of mental health and mental illness.
---
Mental Health in the Workplace
Health and safety are more than just physical. When we feel good, physically and mentally, we're more likely to thrive at work.  When we're suffering, our work suffers. Companies with high levels of mental health awareness report less absenteeism, higher employee retention and a stronger workforce.
Mental Health in the Workplace provides EMPLOYEES and EMPLOYERS with the tools and resources to successfully establish and maintain a healthy workplace. Learn more.
---
Rebuilding our Resilience
Resilience won't make your problems go away — but it can give you the ability to see past them, find enjoyment in life and manage stress. If you aren't as resilient as you'd like to be, you can develop skills to become more resilient. Becoming more resilient not only helps you get through difficult circumstances, it also empowers you to grow and even improve your life along the way.
This workshop offers tips and techniques to manage stress, strengthen coping skills and learn to thrive. Learn more.
---
Stress Management
Everyone feels stressed from time to time — it's a natural part of our everyday lives.
When stress is overwhelming, is your tendency to turn to unhealthy coping strategies? Who in your social circle is available for you when needed? What strategies are you using to manage stress when it occurs?
Our Stress Management workshop helps participants learn the importance of recognizing stress factors, evaluating stress responses, and managing stress with positive self-care strategies. Learn more.
---
Community Suicide Awareness
Our actions, no matter how big or small, can provide hope to those who are struggling. Preventing suicide is possible. Through action, you can make a difference to someone in their darkest moments – as a member of society, as a child, as a parent, as a friend, as a colleague or as a neighbour. We can all play a role in supporting those experiencing a suicidal crisis or those bereaved by suicide.
Throughout the session we will explore who may be at risk, suicide safe language, possible warning signs to look for and how to support someone who may be thinking of suicide to find appropriate resources. Learn more.
---
Resilient Minds
Resilient Minds™ is an evidence-based, peer-to-peer skills development program designed by and for fire fighters using the latest literature on resilience, trauma-informed practices and stress-related/occupational psychological injuries. 
Resilient Minds™ is dedicated to building resilient fire teams and services – to educate, empower and equip fire fighters with the skills and resources to grow and maintain psychological wellness. Learn more.
Questions? Contact Elizabeth Baker, Provincial Lead, Education and Training at elizabeth.baker@novascotia.cmha.ca.