Knowledge is Empowerment.
Each of our paths to mental well-being will be unique. We all have our own goals, our own challenges, our own strengths, and our own supports. But we believe good mental health can be in everyone's reach with the right support.
The cornerstone of CMHA's programming is improving access to the support Nova Scotians facing mental health challenges or illness need to be well.
Support is highly individual, but we know there are some things everyone needs to have good mental health — a purpose, safe, sustainable housing, connection and access to services. These are some of the the building blocks of wellness. Ensuring every Nova Scotian has access to these crucial supports is the foundation upon which our programming is built. Our programs are free, accessible and available to anyone living in Nova Scotia.
Our Programs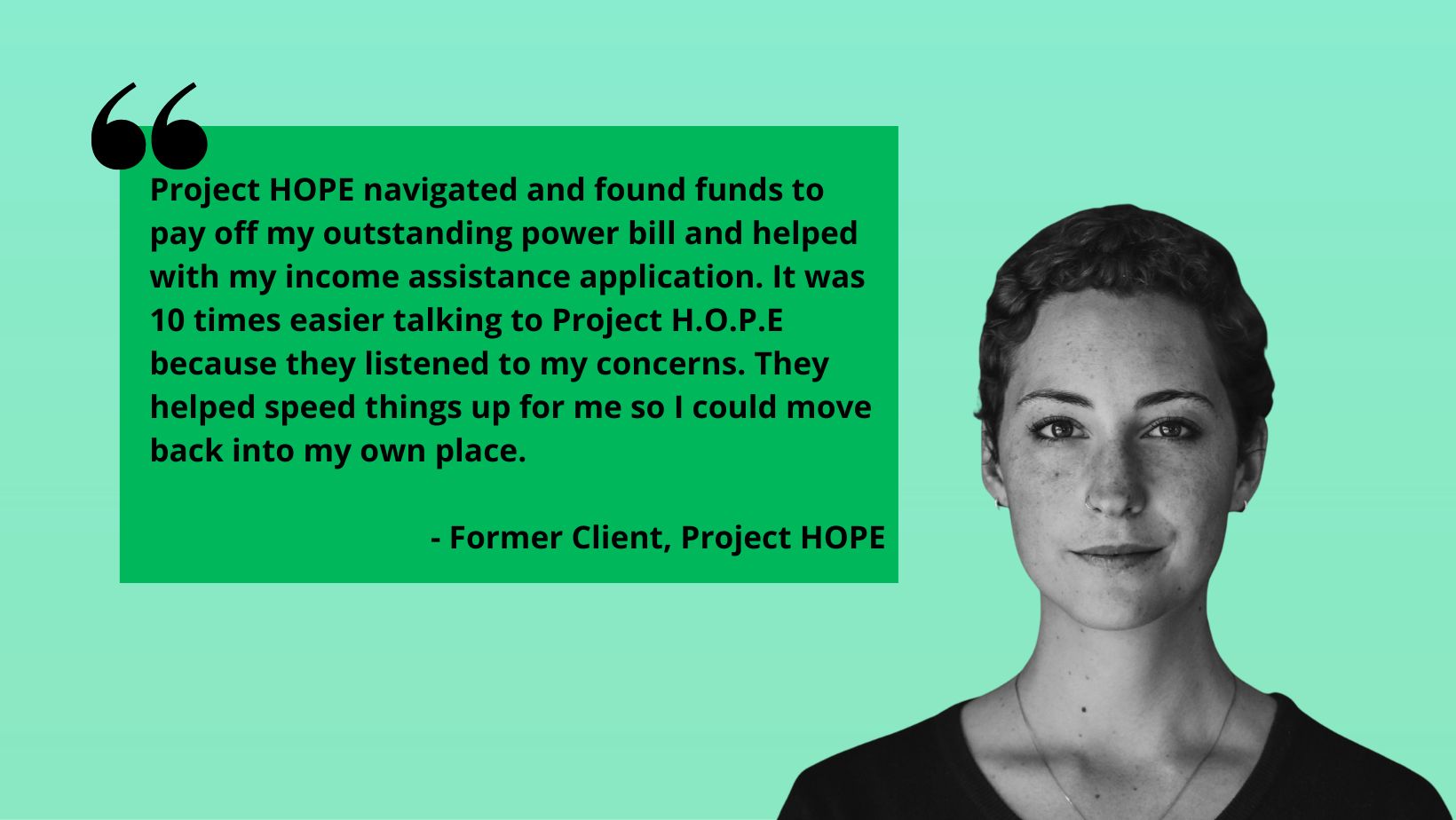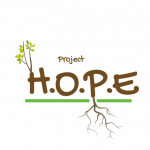 Project H.O.P.E.
Are you homeless or at risk of being homeless?  Find out if Project H.O.P.E is right for you. 
Housing is a basic human right, need and a requirement for good mental and physical health. Project H.O.P.E [Housing Outreach and Peer Empowerment] works with Nova Scotians who are homeless or at risk of homelessness to locate and secure safe, sustainable, affordable housing. Project H.O.P.E is designed to assist those who face barriers beyond the current lack of housing, to locate, secure and maintain safe, appropriate, sustainable and affordable housing. Learn more
---

At Work
At CMHA NS, we know that working has significantly more value than a paycheck. The opportunity to find and maintain safe, sustainable employment has been shown to help stabilize people living with or experiencing a range of mental health conditions. Employment also promotes growth and stability and provides daily structure and meaningful experiences.
The At Work program connects Nova Scotians living with a mental illness, mental health challenges or substance use disorder who are unemployed or under-employed to workplaces that match their strengths, skills, and needs as a way to build resilience and bring experienced employees to workplaces. Learn more
---

Peer Support
Living with a mental illness can make you feel isolated. Put simply, a peer is a person we identify with in some capacity. Peer support is emotional and practical support between two people who share a common experience, such as a mental health challenge or illness. CMHA NS is a leader in peer support in the province.
Our peer support groups are held in safe and respectful spaces, are confidential and accessible. CMHA NS offers two core peer support groups, our Men's Peer Support Group and Circle of Friends. Throughout the year we offer peer support groups to targeted populations and partner with a range of community groups throughout the province to deliver these groups. Learn more

---

THRIVE
Mental health. It wasn't a class at school. So where can adults go to learn about mental health and well-being? The answer is THRIVE Learning Centre for Mental Wellness and Well-being.
THRIVE is a virtual learning center where anyone can access free courses, webinars and workshops to learn, gain new skills, and connect with others in their community. Workshops are developed by subject experts and mental health professionals, who work with people who have their own experience in personal recovery.  Learn more about THRIVE and view the current course schedule.
---
Bounceback
Already offered by CMHA in BC, Ontario and parts of Manitoba, where it is funded by provincial governments and donors. BounceBack was expanded to Nova Scotia in 2021. Based on cognitive behavioural therapy, BounceBack has been shown to reduce depressive and anxiety symptoms by 50 per cent.  BounceBack is a free, guided self-help program that helps adults and youth 15+ learn to manage low mood, mild to moderate depression, anxiety, stress or worry. Learn more and find out if Bounceback is right for you.

---

Talk Today
Talk Today is a mental health education program designed to help athletes and their supporters learn about mental health and to help support players who may be struggling or at risk of suicide. One of the most comprehensive mental health programs for amateur sports in Canada, Talk Today is delivered by CMHA branches and divisions throughout Canada. Learn more.

---

Training
When mental health issues are not addressed there can be personal and financial costs to individuals and organizations. Fortunately, with prevention, early treatment and support, many of these considerable costs can be significantly reduced or eliminated.
Our education and training team provides evidence-based training that is interactive, and solution-focused. We welcome opportunities to customize educational programs to meet the needs of businesses and organizations.
PLEASE NOTE: These workshops are not clinical, but rather an opportunity to raise awareness about mental health and to provide participants with the tools and resources that support overall wellness.
What does non-clinical mean? Non-clinical services are therapeutic, but relate to providing resource information, education, screening, and support until a professional health care provider can make appropriate referrals (if necessary) to primary care or formalized health care services.
Why invest in your employees' mental health?
As Canadians continue to process their trauma from the events of the past two and a half years, employees' mental health has become a top HR priority. Experts note that the organizations that most effectively move the needle are those that develop a comprehensive strategy that supports all aspects of their employees' well-being. Mental health support in the workplace is non-negotiable and the only way we will move from surviving to thriving.
The Facts:
70% of Canadian employees were concerned about the psychological health and safety of their workplace and reported that the primary cause of their mental health problem or illness, was workplace stress, with depression and anxiety being reported as the top two issues
66% of respondents reported that their workplace did not have any policies or programs to reduce stigma
75% reported that their workplace does not have an overall workplace mental health strategy to help them with their depression, stress, and anxiety at work
Additional Information
Fees: To learn more about our fee structures for training sessions contact Elizabeth Baker, Provincial Lead, Education and Training at elizabeth.baker@novascotia.cmha.ca. Non-profit rates are available for some training. We also encourage those who wish to, to pay it forward.
To learn how to pay a program forward, contact Erin Christie, Provincial Lead, Communications and Community Engagement at erin.christie@novascotia.cmha.ca.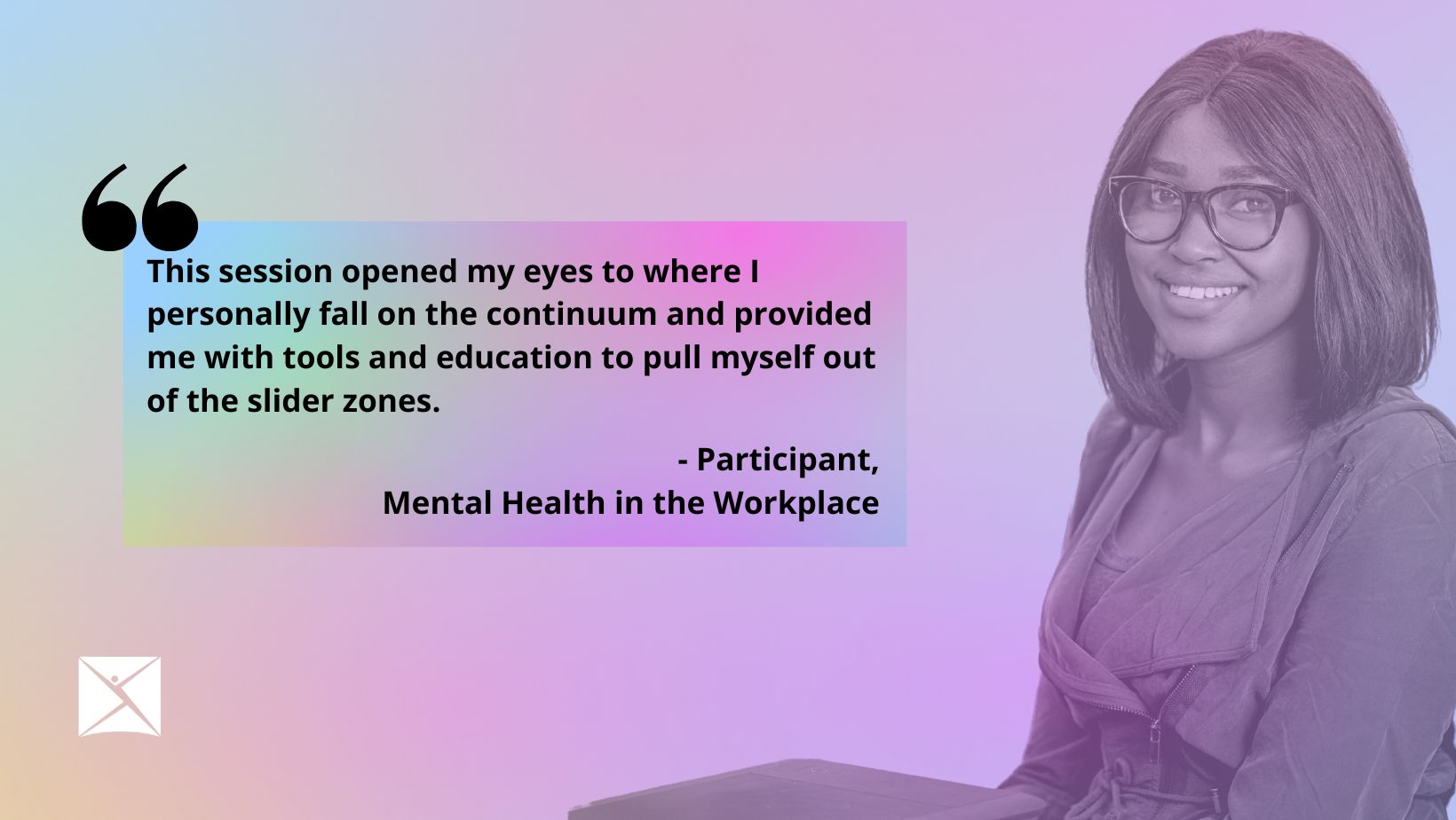 Applied Suicide Intervention Skills Training [ASIST]

ASIST is a two-day interactive workshop in suicide first-aid. ASIST teaches participants to recognize when someone may be at risk of suicide and work with them to create a plan that will support their immediate safety.  Although ASIST is widely used by healthcare providers, participants don't need any formal training to attend the workshop—ASIST can be learned and used by anyone. Learn more.
---
Changing Minds

In understanding an individual who has a mental illness we must first understand the illness, the impact of the illness on the individual, their family and their "fit" within their communities. Changing Minds is an innovative, multi-use mental illness education program.
It was created in order to address a community need for mental health education, stigma reduction and to promote a better understanding of mental health and mental illness. Learn more.

---
Mental Health in the Workplace
Health and safety are more than just physical.
When we feel good, physically and mentally, we're more likely to thrive at work.  When we're suffering, our work suffers. Companies with high levels of mental health awareness report less absenteeism, higher employee retention and a stronger workforce.
Mental Health in the Workplace provides EMPLOYEES and EMPLOYERS with the tools and resources to successfully establish and maintain a healthy workplace. Learn more.
---
Rebuilding our Resilience
Resilience won't make your problems go away — but it can give you the ability to see past them, find enjoyment in life and manage stress. If you aren't as resilient as you'd like to be, you can develop skills to become more resilient. Becoming more resilient not only helps you get through difficult circumstances, it also empowers you to grow and even improve your life along the way.
This workshop offers tips and techniques to manage stress, strengthen coping skills and learn to thrive. Learn more.
---
Stress Management
Everyone feels stressed from time to time — it's a natural part of our everyday lives.
When stress is overwhelming, is your tendency to turn to unhealthy coping strategies? Who in your social circle is available for you when needed? What strategies are you using to manage stress when it occurs?
Our Stress Management workshop helps participants learn the importance of recognizing stress factors, evaluating stress responses, and managing stress with positive self-care strategies. Learn more.
---
Community Suicide Awareness
Our actions, no matter how big or small, can provide hope to those who are struggling. Preventing suicide is possible.
Through action, you can make a difference to someone in their darkest moments – as a member of society, as a child, as a parent, as a friend, as a colleague or as a neighbour. We can all play a role in supporting those experiencing a suicidal crisis or those bereaved by suicide.
Throughout the session we will explore who may be at risk, suicide safe language, possible warning signs to look for and how to support someone who may be thinking of suicide to find appropriate resources. Learn more.
---
Resilient Minds
Resilient Minds™ is an evidence-based, peer-to-peer skills development program designed by and for fire fighters using the latest literature on resilience, trauma-informed practices and stress-related/occupational psychological injuries. 
Resilient Minds™ is dedicated to building resilient fire teams and services – to educate, empower and equip fire fighters with the skills and resources to grow and maintain psychological wellness. Learn more.

Questions? Contact Elizabeth Baker, Provincial Lead, Education and Training at elizabeth.baker@novascotia.cmha.ca.