You are currently on the:
CMHA National
Visit our provincial websites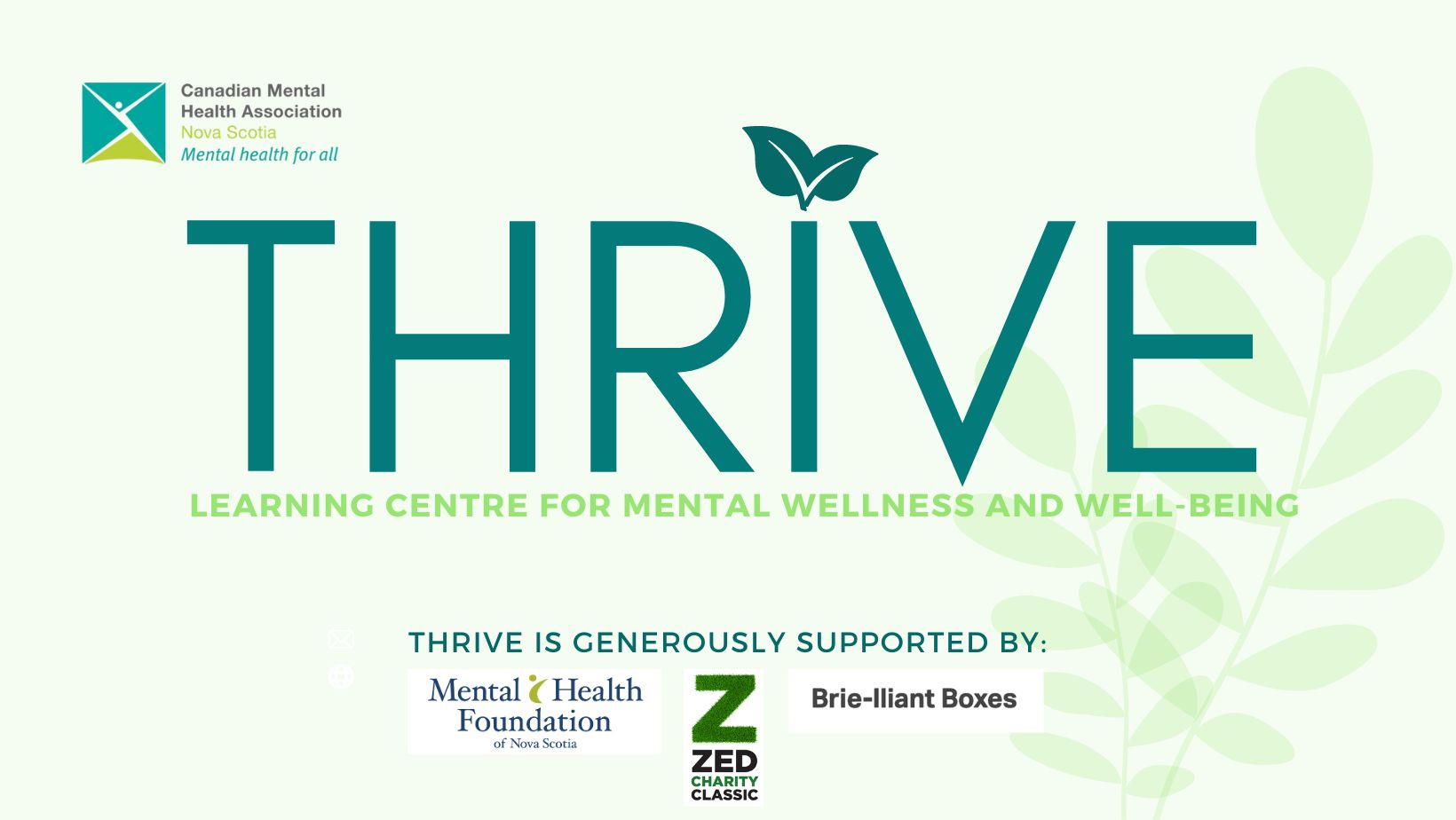 THRIVE Learning Centre for Mental Wellness and Well-Being 
Your wellness journey starts here.
Mental health. It wasn't a class at school. So where can adults go to learn about mental health and well-being? The answer is THRIVE Learning Centre for Mental Wellness and Well-being.
Thrive is a virtual learning centre operated by the Canadian Mental Health Association Nova Scotia Division, where anyone can access free workshops to learn, gain new skills, and connect with others in their community.
Workshops are developed by subject matter experts in collaboration with individuals with lived experience. Topics covered in our workshops range from understanding anxiety to self-care.
The schedule is updated quarterly.
Questions? Contact Carolyn Sloan at [email protected]
*** Help us spread the word! Download and share our THRIVE poster.
Testimonials
Workshop Series: Chronic Pain and Mental Health
I have lived with chronic pain and mental health challenges for decades. The THRIVE series on Chronic Pain and mental health is the first workshop that advertised itself as addressing both issues which grabbed my attention so I signed up. I see a counselor for my mental health, I go to a Pain Clinic for my chronic pain and I go to a massage therapist for treatment. They all treat me in their own bubble. They do not work collaboratively in order to treat the whole person. This made this workshop extraordinary. This workshop is a rare gem and I really hope it will run again so others can have the opportunity that I was blessed. – Mary, participant
Not seeing what you're looking for?
To suggest a topic for a Thrive program please email Carolyn Sloan, Provincial Lead, Education and Training [Interim] at [email protected]
---
Donate to THRIVE
As a not-for-profit charitable organization, we rely on the generosity of those who give what they can to keep our programs running and remain accessible. Donations to THRIVE allow CMHA NS to offer these workshops completely free of charge.
Since its launch in February, 2022, approximately 1,683 Nova Scotians have accessed THRIVE workshops.
By supporting this program you are helping more Nova Scotians support and understand their own mental health. This helps more Nova Scotians stay out of crisis and out of emergency rooms.
If you would like to make a donation, you can do so here.
---
Guest Facilitators
Jill Pasquet | Somatic Practices
Jill is an experienced Social Worker and psychotherapist specializing in trauma-focused therapy.
She practices Somatic Experiencing [SE], a body-oriented approach to trauma healing and Intensive Short-Term Dynamic Psychotherapy (ISTDP) an emotion-focused psychotherapy approach.
---
Leah Fasset | Yoga Nidra
Leah is a yoga and meditation teacher who initially dove into the practices during her own journey recovering from PTSD, Depression and Anxiety.
These practices were the gateway that led to deepening her relationship to self and others and learning tools to live a more present and full life.
Leah is passionate about cultivating safe spaces where those who are seeking tools, or a mindful way of living can come to learn and practice.
---
Wil Brunner (he/him) | Eco-Anxiety and Our Changing Climate
Wil graduated from Sir Sandford Fleming College in 2008 with an Ecosystem Management Technology Diploma, and on his path of a community-focused career, he has continuously sought ways to teach people about the importance of living in harmony with the natural world.
Wil has worked to educate and empower people though volunteer programs and environmental groups, restoring and conserving local streams, wetlands, floodplains, and forests. Throughout his conservation roles, he has helped to plant thousands of trees and presented to hundreds of learners and educators.
Wil's work with youth in the outdoors led him to guiding back-country wilderness trips with a focus on personal growth and connection to nature, where he used his growing knowledge of mental health, ecology and mindfulness to inspire and support teens in the first stages of rehabilitation. In his current role at Clean Foundation as Environmental Education PD Facilitator, he works to support teachers with integrating climate and environmental learning into the curriculum.
Outside of his work with Clean, Wil also offers forest bathing and nature therapy experiences to people of all ages.
---
Karen Bradley | Enhance through Dance
Karen is a Certified Movement Analyst in Laban Movement Analysis, a registered dance-movement therapist, and Emerita Associate Professor of Dance from the University of Maryland.
She is a faculty member for the Laban/Bartenieff Institute of Movement Studies globally and offers dance/movement therapy to seniors and children locally.
Bradley is the author of several articles and book chapters on aspects of dance for health, education, and social good. Bradley lives in Musquodoboit Harbour, Nova Scotia.
---
Emma Fitzgerald
Emma FitzGerald is an author/illustrator and educator. Her first book "Hand Drawn Halifax" celebrates the capital of Nova Scotia.
Her quirky and whimsical style is highly detailed, but also leaves lots of room for imperfections, which for her is an important part of the creative process. In her workshops she gives prompts that help anyone discover what they have to say through drawing, and often receives feedback that is unexpectedly fun, and freeing, to draw like this.
She lives and draws in Lunenburg.
---
Rebecca Pillay | Therapeutic Use of Music
Rebecca Pillay completed her Master of Public Health degree from Western University and has a passion for understanding health from a holistic perspective.
Her love and appreciation for music started at an early age (thanks to her parents) as she found inspiration and solace in the melodies around her.
This deep connection to music sparked her curiosity in exploring the use of music for personal growth and healing, which motivated her to create 'Music & Self-Care'.
Rebecca hopes these sessions will empower and inspire individuals on their mental health journeys as she shares music's healing and transformative power.
---
Andrew Safer | Mindfulness and Depression
Andrew Safer, the Founder of Safer Mindfulness, is a mindfulness-awareness meditation instructor and trainer, program developer, workshop facilitator, author, and presenter on mindfulness in everyday life.
In 1968 he began to practice mindfulness in the Zen tradition, continued in the Tibetan Buddhist tradition, and became an authorized mindfulness-awareness meditation instructor through Shambhala International in Halifax in 1993.
---
Janet MacDonald | Stress Busters
Janet MacDonald is a Registered Nurse with a keen interest in mental health in the community. She is a trained facilitator with the Canadian Mental Health Association Nova Scotia Division and The Canadian Mental Health Commission.
Janet is also the author of the book "Send Suicide Packing – There's Something We All Can Do To Help," and has been a presenter at the Canadian Association of Suicide Prevention national annual meeting.
---
PAST FACILITATORS
Gerard McNeil | WORKSHOP SERIES: Creative Strengths for Resilience
Gerard McNeil is a Community Based Educator, Creativity Consultant / Coach and Artist.
Gerard has more than twenty years designing and facilitating unique arts based and arts infused programs in the areas of mental health and disability.
Gerard believes that by discovering our creative strengths we can also enhance our mental well-being.
---
Kathleen Novelia | Inclusion
Kathleen came to Canada at the age of 15, as a student and later immigrated alone.
Having lived and worked from farm-to-table in cross-cultural settings in a small city in Indonesia, Montreal, a rural village in Tanzania and now in rural Nova Scotia, she has a deep understanding of operations in the food system.
She focuses her work and advocacy on food security, specifically on food waste/food loss, and food culture. Her deep empathy to privilege, barriers and challenges as a lone immigrant in Canada is one of the main reasons she is able to both establish and maintain meaningful partnerships everywhere she goes.
She currently works for the YMCA YREACH program to support newcomers with education and employment in this area, and to build various food programs through VCLA.
She likes to find simple solutions to complicated problems that reflect what is realistically doable while respecting the community. She strives to be a team member who is creating change for a socially-just community.
---
Sabrianne Penner | Introduction to the Social Determinants of Health Series
As a Health Promotion Specialist with the IWK, Sabrianne has a keen interest in the way the determinants of health impact our physical and mental health.
She hopes to share her knowledge so others can identify how their own health has been affected.
In her spare time, Sabrianne enjoys cooking, spending time in nature, and arguing with her cat about whether or not he's been fed. As a Health Promotion Specialist with the IWK, Sabrianne has a keen interest in the way the determinants of health impact our physical and mental health.
She hopes to share her knowledge so others can identify how their own health has been affected.
In her spare time, Sabrianne enjoys cooking, spending time in nature, and arguing with her cat about whether or not he's been fed.
---
Amber Chinn | Living Well with Chronic Pain Series
Amber Chinn is a mental health and disability advocate dedicated to increasing the conversation and resources for those living with chronic pain.
Her passion for this work has grown over the past six years since being diagnosed with fibromyalgia and experiencing first-hand the lack of resources, accessibility and awareness within her community.
Amber is currently a Master's in Counselling Psychology student at Yorkville University.
---
Shawna |Tapping into Presence
Shawna is a yoga and meditation teacher and teacher trainer who draws upon a multitude of practices to help us come home to ourselves and learn to weave the teachings into our daily life.
Her mission is to empower herself as well as others through the practice of yoga and meditation.
Using these ancient tools of awakening in a contemporary way to assist in our personal and collective healing.
She believes that ultimately, the goal is to tap into our purest power and potential. Her vision is to create a conscious community that begins to make a difference.
---
Livinus Numfor | WORKSHOP SERIES: NEWCOMER MENTAL HEALTH
Livinus Numfor obtained their undergraduate degree in Biochemistry in 2007 from the University of Buea, Cameroon.
They taught high school Biology and Chemistry for 5 years before immigrating to Canada in 2012 via the Quebec Skilled Workers Program.
In June 2019, Livinus accepted the position of a Health Promotion Specialist with Mental Health and Addictions with Nova Scotia Health Authority, where they currently work in Tri-County of Yarmouth, Digby and Shelburne to promote positive mental health and reduce harms from substance use and gambling.
Abdullah Ali | WORKSHOP SERIES: NEWCOMER MENTAL HEALTH
Abdullah Ali completed his Master of Public Health degree and currently works in health promotion. He strongly believes in adopting a social determinants of health approach in his work. His experiences of working with refugees and moving to Canada as an early teen with his family motivated him to create 'New Beginnings'. He hopes for the sessions to be a welcoming environment for both newcomers and non-newcomers, where everyone can come together, learn, discuss, and share.
---
Kelly MacGregor | WORKSHOP SERIES: TAPPING
Kelly McGregor has a Bachelor of Arts in Behavioural Science from Ambrose University and is a Registered Professional Counsellor with the Canadian Professional Counsellors Association.
For over 13 years she has worked in the field of mental health and addictions with both groups and individuals in residential, community and private practice settings. Many of the clients Kelly has worked with have had a history of complex trauma and multiple mental health diagnosis.
Kelly was born and raised in Calgary, Alberta. She moved in 2019 to Nova Scotia with her husband, Daniel, and dog Huxley. She has always enjoyed playing sports, learning and being in nature.
You can find out more about Kelly by visiting www.kellymcgregorcounselling.com. Find her on instagram or facebook at Kelly McGregor Counselling or send her an email at [email protected]
---
Catherine Droesbeck | Walking for the Body, Mind and Soul
Catherine  Droesbeck is the Hike NS Program Manager for NS Walks and has over 25 years of government and nonprofit experience in three provinces focused on increasing opportunities for physical activity for people of all ages.
During the past five years, Catherine's work has been focused on decreasing inequities to accessing physical activity, in particular working with the Black communities of the Halifax area.
Catherine holds a degree in Health Promotion from Dalhousie University.
Lesley Huska | Walking for the Body, Mind and Soul
Lesley Huska is the Wellness Coordinator at Canada's first mental health cooperative which is a charitable, peer-led organization in Dartmouth called Healthy Minds Cooperative.
Lesley works to develop and deliver wellness programming in the form of workshops, presentations and support groups which are all free to Nova Scotians and are available without any diagnosis or referral.
Lesley is passionate about sharing the tools and techniques that have guided her own mental health recovery, and most importantly, showing others that living well with mental illness is possible!
Junior Moaku, Save Me Save We | Thrive in Peace Not in Pieces [November 2, 2022]
Junior Moaku is an avid mental health advocate whose work is focused on contextualizing the power and advantages of psychological health. Through evidence-based workshops and various training methods, Junior's mission is to improve the wellness literacy of all Canadians.
Junior grew a passion for mental health after noticing the lack of resources, accessibility, and assertiveness around the subject in universities. He launched his personal awareness movement by wearing a t-shirt with the words Save Me. After an overwhelming positive response, he founded Save Me Save We to increase awareness around mental health.
Junior is a well traveled individuals whose educational background includes Chicago Hope Preparatory Academy, Iowa Central Community College, Cape Breton University, and Acadia University.
Learn more about Junior here
---
Dr. Julie MacDonald | OCD: It's probably not what you think [October 21, 2022]
Dr. Julie MacDonald is a psychologist who specializes in anxiety and obsessive-compulsive disorders. She is also the mother of a child who lives with OCD.

---
THRIVE is generously supported by: