You are currently on the:
CMHA National
Visit our provincial websites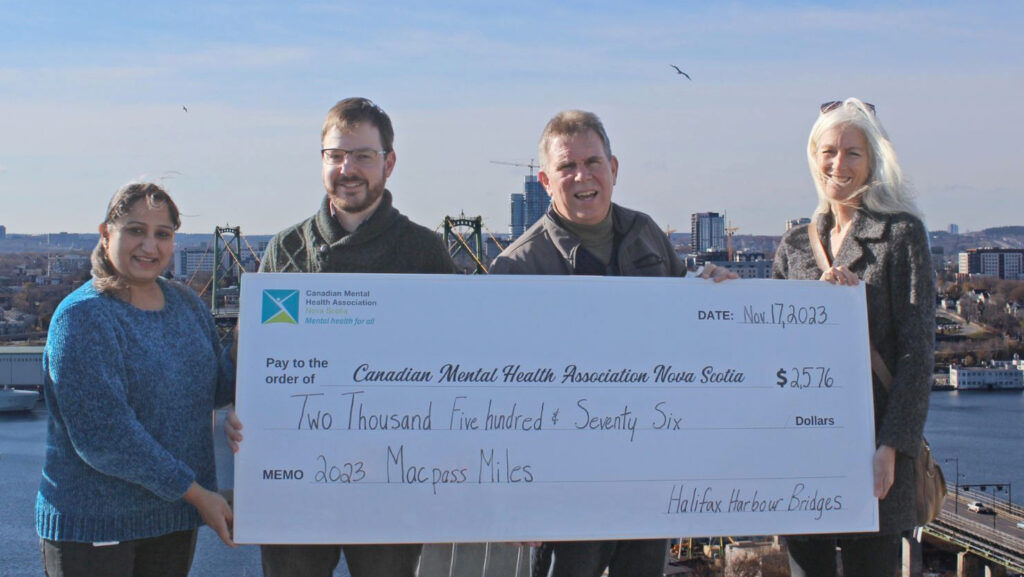 Thank you to the Halifax Harbour Bridges
Nov 20, 2023
In photo from left, Macpass Miles runners, Nitasha Nijhawan, Josh Levy, Communications Manager, Halifax Harbour Bridges, Karn Nichols, Executive Director, CMHA NS Division.
Thank you from the bottom of our hearts to our partner, the Halifax Harbour Bridges [HHB} and to all those who ran the Macpass Miles on August 6 in support of CMHA NS.
The Macpass Miles is an annual family-friendly race from Halifax to Dartmouth across the Macdonald Bridge.
Participants of the 2023 edition of the popular event were asked to pay a $10 registration fee — all of which was donated to CMHA NS.
Thanks to generous partners like the Halifax Harbour Bridges, more Nova Scotians living with mental illness will be able to access the tools and support they need to be well and stay well.
This includes support finding and maintaining safe, affordable housing, assistance finding sustainable, well paying jobs and access to mental health literacy tools and education.
Now more than ever, these programs play a critical role supporting Nova Scotians' mental health.
Donations help us keep these affordable, accessible and available to anyone who needs them. 
Whether you fundraise for CMHA NS like the Halifax Harbour Bridges or donate directly, to CMHA Nova Scotia Division you are helping Nova Scotians be well, get well, and stay well. You're helping your friends, your neighbours, you family and your community.
Together, we are working towards better mental health for all Nova Scotians.
To host a fundraiser for CMHA NS Division, contact Erin Christie, Provincial Lead, Communications and Community Engagement at [email protected].
Make a direct donation HERE.