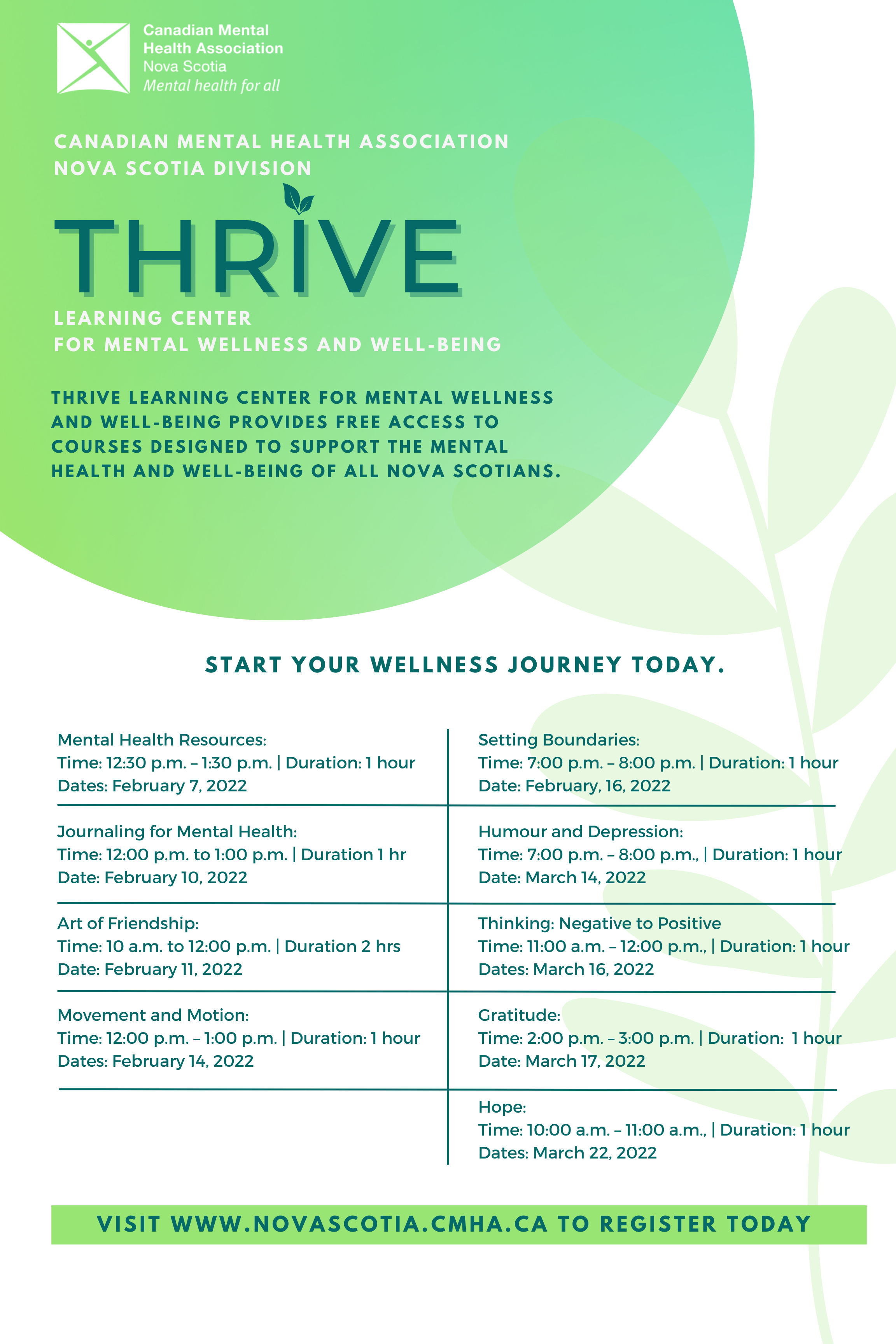 Start your wellness journey TODAY.
Karn Nichols, Executive Director of the Canadian Mental Health Association Nova Scotia Division [CMHA NS] is proud to announce the launch of THRIVE Learning Centre for Mental Wellness and Well-being, a new initiative that will help Nova Scotians experience growth and connection so they can discover new opportunities and skills. 
"We believe that through the power of relationships and safe learning environments, people are empowered to take steps towards making changes," Nichols explains.
"The motivation and strength needed to make a change, requires people to feel connected and supported by others who understand their personal journey, who may have had similar experiences and are living out their own lives — that is what THRIVE is all about."
Led by the CMHA NS Education and Training team, THRIVE Learning Centre for Mental Wellness and Well-Being offers free, informative courses, addressing topics related to mental health, physical health, building your best life, finding your voice, increasing skills and connecting to community. Courses are designed through the lens of professional experience and honoring those with lived experience of mental illness.
THRIVE is based on the Recovery College model. A Recovery College is an in-person or virtual learning center where anyone can access free courses, webinars and workshops to learn, gain new skills, and connect with others in their community.

Elizabeth Baker, CMHA NS's Provincial Education and Training Lead explains:
"Recovery Colleges are all about establishing social connection, hope and optimism, identity, meaning, and empowerment through education. They are modeled after a traditional college, but with a focus on mental health and wellness."

For example, Baker adds, instead of language literacy, for instance, you might take a course in mental health literacy, or in health and well-being. Courses ranges from topics including 'Understanding Anxiety' to 'Self-Help 101' as well as cooking classes, walking groups, and mindfulness practices. Even the course curriculum is unique: it is developed by subject experts and mental health professionals, working together with people who have their own experience in personal recovery. 
THRIVE courses are temporarily being offered exclusively online via Zoom.  All courses are free and everyone is welcome.  Course offerings are updated quarterly. Watch for the Spring Session Schedule to see which courses will be offered during April, May and June.
Learn more about THRIVE Learning Centre for Mental Wellness and Well-being HERE
Current Course Schedule

Art of Friendship: The Art of Friendship program Art of Friendship is an eight-week Canadian Mental Health Association course that provides a safe, supportive environment where participants can further their health and well-being by reducing isolation and building social skills. Participants learn the skills of friendship building, meet new people, and learn about recovery and wellness skills.

Time: 10 a.m. to 12:00 p.m. | Duration 2 hrs
Dates: Fridays beginning February 11, 2022. Last session will be held April 8, 2022
---
Journaling for Mental Health: Journaling helps your mental health in many ways! It gives you a place to release your emotions and thoughts, prioritize your problems, fears or concerns and encourages you to become more aware of your behaviours and actions to support your mental wellness.
Time: 12:00 p.m. to 1:00 p.m. | Duration 1 hr
Dates: Thursday, February 10 and Thursday, February 24, 2022
---
Setting Boundaries: Boundaries can be hard. They can challenging to establish and even harder to maintain. Join Tracy and Elizabeth as they discuss the importance of boundaries, some tips on how to set them and maintain them.  
Time: 7:00 p.m. – 8:00 p.m.| Duration: 1 hour
Dates: Wednesday, February, 16, 2022
---
Mental Health Resources: In these sessions we review a comprehensive list of curated mental health resources available to Nova Scotians and review how to access them.
Time: 12:30 p.m. – 1:30 p.m.  | Duration: One, one-hour session offered on two dates
Dates: Monday, February 7 and Monday, March 7, 2022
---
Movement and Motion: This session focuses on the connection between movement and mental health. It is designed to help participants stay motivated to keep moving and encourage each other. We hope you come move with us! 
Time: 12:00 p.m. – 1:00 p.m. every second Monday | Duration: four, one-hour sessions
Dates:
Monday, February 14, 2022
Monday, February 28, 2022  REGISTER

Monday, March 14, 2022      REGISTER

Monday, March 28, 2022      REGISTER

---
Hope : We all have the ability to strengthen our "hope muscle" and therefore increase our positivity and resilience, even in the midst of difficult circumstances. This workshop will encourage you to find hope within yourself and provide a foundation for addressing current life challenges.

Time: 10:00 a.m. – 11:00 a.m., Tuesday, March 22, 2022 | Duration: one, one-hour session
Dates: Tuesday, March 22,2022

---
Gratitude: Practicing gratitude can transform the brain and help us feel more peaceful and less reactive. We can't be anywhere else but where we are right now. Working toward accepting this new reality can put us on the path toward new strategies to deal with it.

Time: 2:00 p.m. – 3:00 p.m. | Duration: One, one-hour session
Date: Thursday, March 17, 2022

---
Thinking: Negative to Positive: We can get caught focusing on the negative aspects of life which can cause us to become stuck and unable to move forward.  This course will help you re-train your brain  to respond to positivity and to think positive! This switch can have huge impacts on our mental health and our lives and help us to become unstuck.  
Time: 11:00 a.m. – 12:00 p.m., Wednesday, March 16, 2022 | Duration: One, one-hour session
Dates: Wednesday, March 16, 2022

---
Humour and Depression: Can you remember a time when you laughed so hard your stomach hurt or you spit out your milk?  Remember how good you felt afterwards?  Humour can have a positive effect on our mental health.  Join us for a discussion on how to incorporate humour into our lives as part of our wellness plan. 
Time: 7:00 p.m. – 8:00 p.m., Monday, March 14, 2022 | Duration: One, one-hour session
Date: Monday, March 14, 2022

Donations allow CMHA NS to offer mental health and wellness programming, including THRIVE Courses, to all Nova Scotians free of charge. Thank you to our generous donors and champions for their support. Your dollars have a huge impact, and we are so grateful. Together, we can work towards our mission of ensuring that all people in Nova Scotia experience good mental health and well-being.
To donate to CMHA Programs and Education, including the Recovery College visit www.CanadaHelps.ca