You are currently on the:
CMHA National
Visit our provincial websites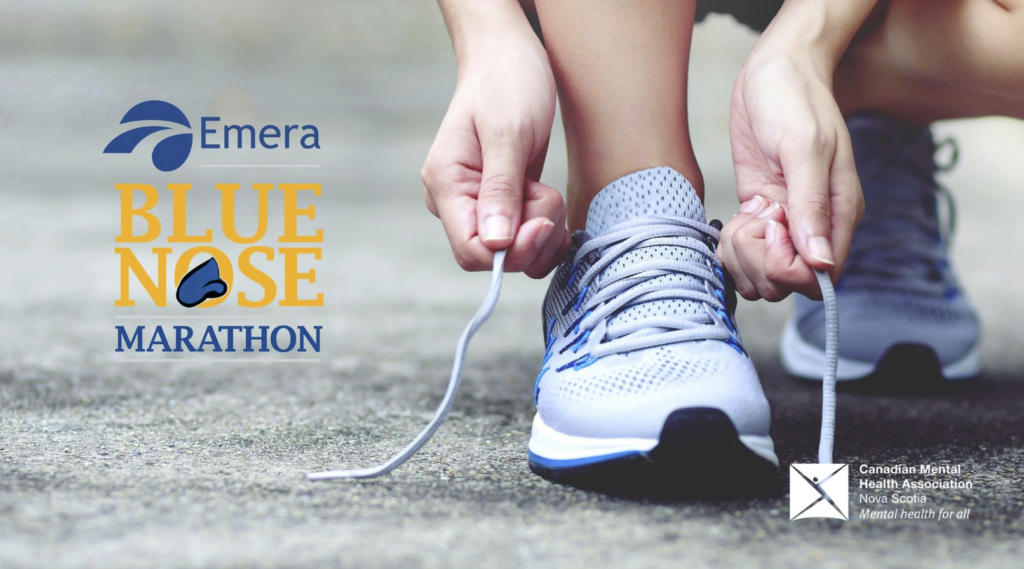 Move your mental health this May! 
Mar 16, 2023
Register for the 2023 Emera Blue Nose Marathon and support CMHA NS Division!
If you're planning on participating in the Blue Nose Marathon this year, why not go the extra mile and collect pledges in support of the Canadian Mental Health Association Nova Scotia Division.
One in four Nova Scotians live with a mental illness or are facing a mental health challenge. But good mental health is within everyone's reach with the right support.
The Canadian Mental Health Association Nova Scotia Division [CMHA NS] delivers the programs, training and navigation support that Nova Scotians need to be well and stay well. These programs are free to access and available to everyone living in Nova Scotia.
Now more than ever, our work plays a critical role in meeting the mental health needs of Nova Scotians.
Register for the 2023 Emera Blue Nose Marathon and support mental health and suicide prevention programs across Nova Scotia!
Sign up TODAY using our discount code CC23CMHANS and save 10% off your registration fee!
*This code is valid for all adult single race entries to the 2023 Emera Blue Nose Marathon (5KM, 10KM, Half and Full Marathon).
It can be applied in registration at the bottom of the page under "Enter promo or gift code."
---
About CMHA NS Division
OUR PROGRAMS
THRIVE: THRIVE Learning Centre for Mental Wellness and Well-being is a virtual learning centre operated by the Canadian Mental Health Association Nova Scotia Division, where anyone can access free workshops to learn, gain new skills, and connect with others in their community.
Workshops are developed by subject matter experts in collaboration with individuals with lived experience.
AT WORK: Whether you're looking for employment or employees, At Work can help!
The At Work program connects Nova Scotians living with a mental illness, mental health challenges or substance use disorder who are unemployed or under-employed to workplaces that match their strengths, skills, and needs to build resilience and bring experienced employees to workplaces.
At Work is a national program delivered by the Canadian Mental Health Association in communities across Canada.
PROJECT H.O.P.E. Housing is a basic human right, need and a requirement for good mental and physical health.
Project H.O.P.E works with Nova Scotians who are homeless or at risk of homelessness to locate and secure safe, sustainable, affordable housing. Project H.O.P.E is designed to assist those who face barriers to locate, secure and maintain safe, appropriate, sustainable and affordable housing.
PEER SUPPORT: Living with a mental illness can make you feel isolated.
Peer support is emotional and practical support between two people who share a common experience, such as a mental health challenge or illness. CMHA NS offers a variety of peer support groups based on community need. Throughout the year we offer peer support groups to targeted populations and partner with a range of community groups throughout the province to deliver these groups. Our peer support groups are held in safe and respectful spaces, are confidential and accessible.
Communities Addressing Suicide Together [CAST]: Through the CAST Program, CMHA NS works with communities across Nova Scotia to build and strengthen their capacity to address suicide through education, training, awareness and resource sharing.
OUR TRAINING SERVICES
CMHA NS offers practical, evidence-based workshops and training sessions to improve mental health literacy, strengthen resilience and help foster a safer, more resilient and inclusive culture.
ASIST: Applied Suicide Intervention Skills Training [ASIST] is a 2-day intensive, interactive and practice-dominated course designed to help individuals recognize the risk of suicide and learn how to intervene to prevent the risk of suicidal thoughts from becoming suicidal behaviours. Although ASIST is widely used by healthcare providers, participants don't need any formal training to attend the workshop — ASIST can be learned and used by anyone.
RESILIENT MINDS: Resilient Minds is a comprehensive, four-module prevention workshop developed specifically to support the psychological health and safety of firefighters and first responders. Resilient Minds™ has supported thousands of fire fighters across Canada to develop strategies to mitigate and better manage occupational stress resulting in informed and healthier teams.
TALK TODAY: Talk Today is one of the most comprehensive mental health programs for amateur sports in Canada. Its aim is to promote the mental health of young athletes and to spread awareness about the benefits of positive mental health throughout communities across the country. Originally launched by CMHA Ontario Division in partnership with the OHL in 2014, Talk Today provides an important opportunity to address the mental health needs of athletes across the province and across Canada.
SAFETALK: SafeTALK is a half day course that was developed by LivingWorks Education and delivered by CMHA NS. The course provides training for individuals in the community who are over the age of 15 to recognize when someone is thinking about suicide and connect them to an intervention provider.
CHANGING MINDS: To better support our friends, family members and coworkers who live with a mental illness we must first understand the illness and the impact of the illness on the individual. Changing Minds is an educational program aimed at reducing the stigma surrounding mental illness and to increase awareness and understanding of the issues/ challenges that persons living with mental illness face daily. The program comes from an evidence-based perspective and uses first-person narrative examples from persons living with mental illness.
LIVING LIFE TO THE FULL: Living Life to the Full is a mental health promotion course designed to help people deal with everyday life challenges and learn self-management skills using Cognitive Behavioural Therapy (CBT) principles. Course content and materials are practical and easily applied to everyday life situations. The course is suitable for people of all ages – from youth to seniors.