You are currently on the:
CMHA National
Visit our provincial websites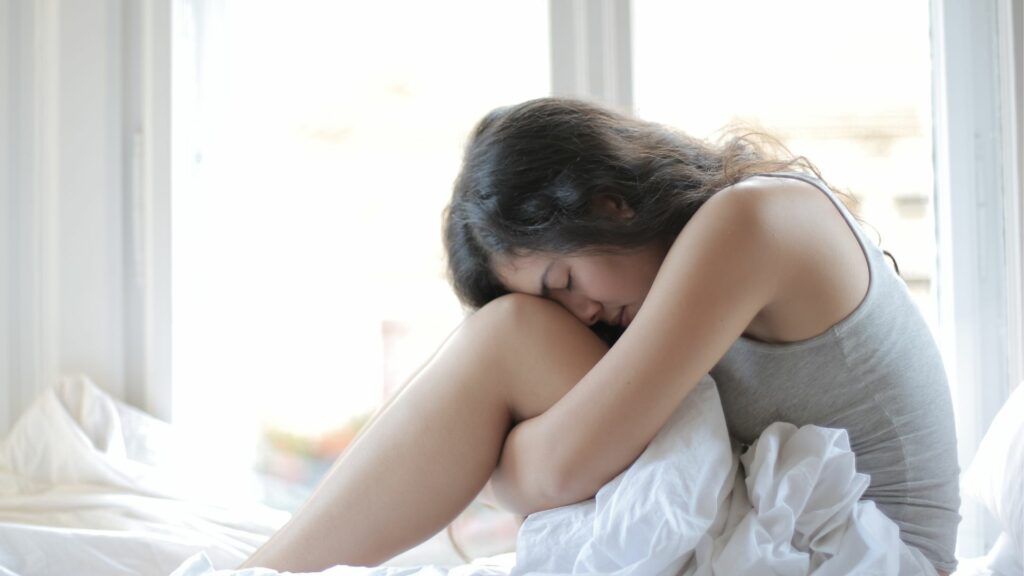 THRIVE workshop series will focus on education and advocacy for people living with chronic pain
Jan 11, 2023
ARTICLE
On February 15, the Canadian Mental Health Association Nova Scotia Division will launch Living Well with Chronic Pain, a four-part virtual workshop series offered through CMHA NS's Thrive program.
Approximately 185,000 Nova Scotians live with chronic pain.
Twenty-four-year-old Amber Chinn is one of them, and, as she explains, it has a significant impact on her mental health.
Chinn lives with Fibromyalgia, a disorder characterized by widespread pain accompanied by fatigue, sleep, memory, and mood issues.
"A good day just means it's manageable and doesn't get in my way too much, as you can imagine, that leads to stress, depression and feeling really isolated at times."
When she received the diagnosis two years ago, Chinn recalls feeling stuck in an overwhelming and dark place, mourning for a future that felt unattainable.
In Nova Scotia, Chinn says there are limited options that support the unique intersection of chronic pain and mental health, and, like thousands of Nova Scotians, Chinn does not have a family doctor, which makes it harder to get help.
She manages her pain with only a prescription through her university's health plan but is not sure what she'll do when she graduates.
"I am currently on a waitlist until 2025 for a pain clinic in Halifax. That just feels unacceptable. I know that people are working to address this."
In the meantime, Chinn hopes the workshop series will serve the educational needs of Nova Scotians living with chronic pain, as well as offer emotional support and connection – both of which she says are crucial elements of her pain management regimen.
"There isn't a cure for chronic pain, but we also know that we can drastically improve how it is experienced when we give people a better understanding of what resources are available, how to self-advocate, and what is within their control."
"At its core," she emphasizes, "these workshops are about trying to empower people."
Once the series wraps in March, Chinn will lead a peer support group for those who live with chronic pain.
The Living Well with Chronic Pain workshop series runs from February 18 to March 8, 2023.
The workshops are open to all Nova Scotians who live with chronic pain and will be held virtually via Zoom. The workshop series is free to attend but those wishing to participate are asked to register for each workshop they plan to attend, in advance.
It is encouraged, but not necessary to attend the entire series to get the full benefit of the workshops.
WORKSHOP SCHEDULE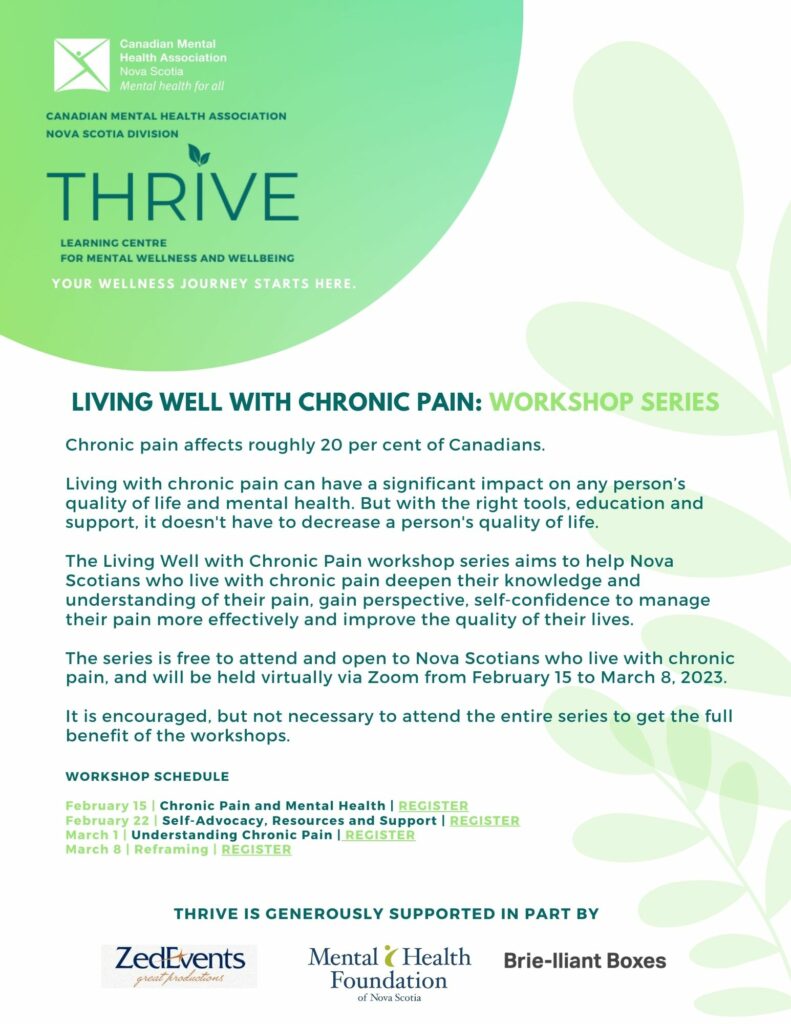 Questions? Contact Lindsay Miller at [email protected]
---
A list of resources for Chronic Pain in Nova Scotia can be accessed HERE
About Thrive: Mental health. It wasn't a class at school. So where can adults go to learn about mental health and well-being?
The answer is THRIVE Learning Centre for Mental Wellness and Well-being. THRIVE is a virtual learning centre where anyone can access free courses, webinars and workshops to learn, gain new skills, and connect with others in their community.
Workshops are developed by subject experts and mental health professionals, who work with people who have their own experience in personal recovery.