You are currently on the:
CMHA National
Visit our provincial websites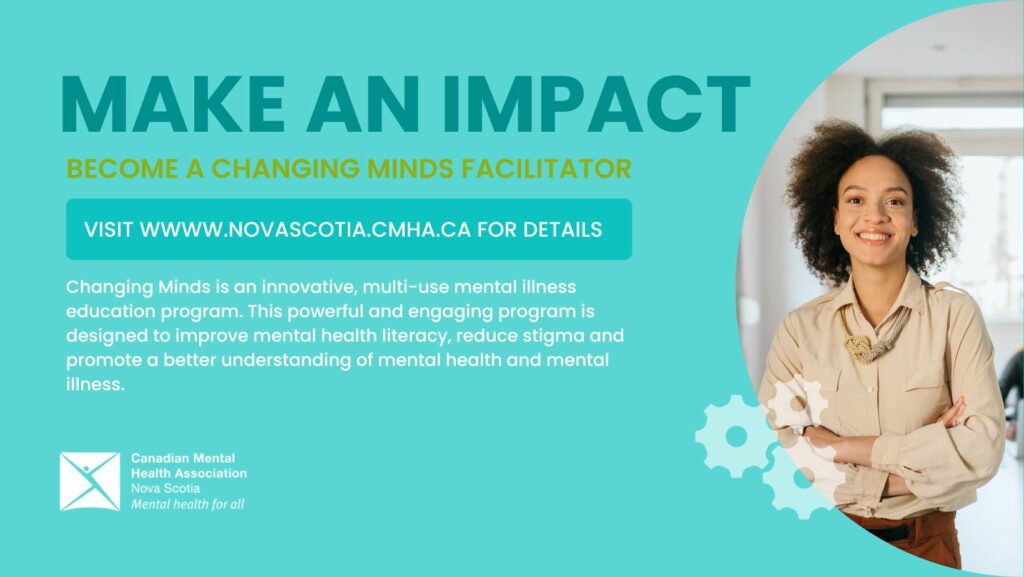 We're Hiring: Changing Minds Facilitators 
Mar 8, 2023
The Canadian Mental Health Association Nova Scotia Division is looking for eight individuals from across Nova Scotia to deliver our Changing Minds program in communities across the province on a contract basis.
JOB POSTING: Program Facilitator | POSITION: CONTRACT
NUMBER OF POSITIONS AVAILABLE: Eight [two per health zone]
JOB DESCRIPTION: Reporting directly to the CMHA NS Education Lead, Changing Minds facilitators will be trained to deliver Changing Minds and will be contracted to deliver the program in their geographic area on behalf of CMHA-NS.
LOCATION: Nova Scotia Health Zones [Central, Eastern, Western, Northern]
DEADLINE TO APPLY: Friday, March 24 by 5:00 p.m.
ABOUT CHANGING MINDS:
Changing Minds is an innovative, 2-day training program for individuals looking to learn more about mental illness and positive supportive ways to engage with those living with a mental illness.
Launched in 2005, Changing Minds is an educational program aimed at reducing the stigma surrounding mental illness and to increase awareness and understanding of the issues/ challenges that persons living with mental illness face daily. The program comes from an evidence-based perspective and uses first-person narrative examples from persons living with mental illness.
It was created in order to address a community need for mental health education, stigma reduction and to promote a better understanding of mental health and mental illness.
This powerful and engaging program will change your mind regarding people with mental illness
CANDIDATE REQUIREMENTS
Candidates MUST be available to attend a weeklong training session between May 15 and 19 in Debert to obtain certification. [Meals, mileage and accommodations will all be covered by CMHA NS.]
Candidates must commit to delivering one Changing Minds training per year to maintain certification.
Candidates must have access to a reliable vehicle and a valid driver's license, as some travel may be required.  
Candidates must have access to a personal laptop/computer,
Candidates must have experience, knowledge, and skill in working with people with mental illness.
Candidates must have experience and strong facilitation skills. [Adult education focused considered an asset.]
Candidates must have excellent written and oral communication skills.
Living experience with mental illness, whether the candidate lives with an illness or is close to someone who does, is considered an asset.
ASIST, Mental Health First Aid or other mental health related training considered an asset.
COMPENSATION: The successful applicants will receive payment of $750 for each 2-day Changing Minds they deliver as coordinated by CMHA NS. 
PLEASE NOTE: There may be minimal travel required to deliver the training. Travel and expenses will be the responsibility of the trainers.
ARE YOU A FIT? If you are interested in applying for the role, please submit a PDF copy of your resume along with a cover letter stating why this is the position for you no later than Friday, March 24 at 5:00 p.m. to Katie Glover at [email protected]
We thank you for your interest and please note that only those identified for an interview will be contacted.
CMHA NS is committed to reflecting the diversity of the communities within which we work. As such, we encourage applications from Black, racialized and Indigenous Peoples, 2SLGBTQ+, newcomers to Canada, and people with disabilities.
If you are a member of a group that has been historically excluded from opportunities, we encourage you to self-identify in your cover letter or resume and to share your pronouns.
We are committed to treating all applicants fairly and accommodating those with disabilities at any stage of the hiring process. Also, no candidate will meet every single desired qualification.
If your experience looks a little different from what we have identified and you think you can bring value to the role, we would love to learn more about you.