CMHA NS is a not-for-profit charitable organization that delivers mental health supports, free of cost to anyone who needs them. Mental health has a significant impact on how people relate to others, make decisions, and handle stress.
Those who choose to support CMHA NS understand that ensuring individuals experience good mental health is good for entire communities. Their dedication to community, their generosity and unwavering support, inspires us every day.
Thank you to our Donors, Funders, Partners, and Mental Health Champions and Supporters.

---
Our Funders
One in three Canadians will experience a mental illness in any given year.
But three in three – that's all of us – have mental health. And we all need to take care of it.
With the help of our funders, CMHA NS is working to keep people mentally healthy in the first place. To act before mental illness, so that it doesn't take hold. Our work is about keeping people out of crisis. It is about keeping people out of hospitals, both before mental illness can occur, and after a crisis has passed.
Thank you to our funders for supporting this life-changing work.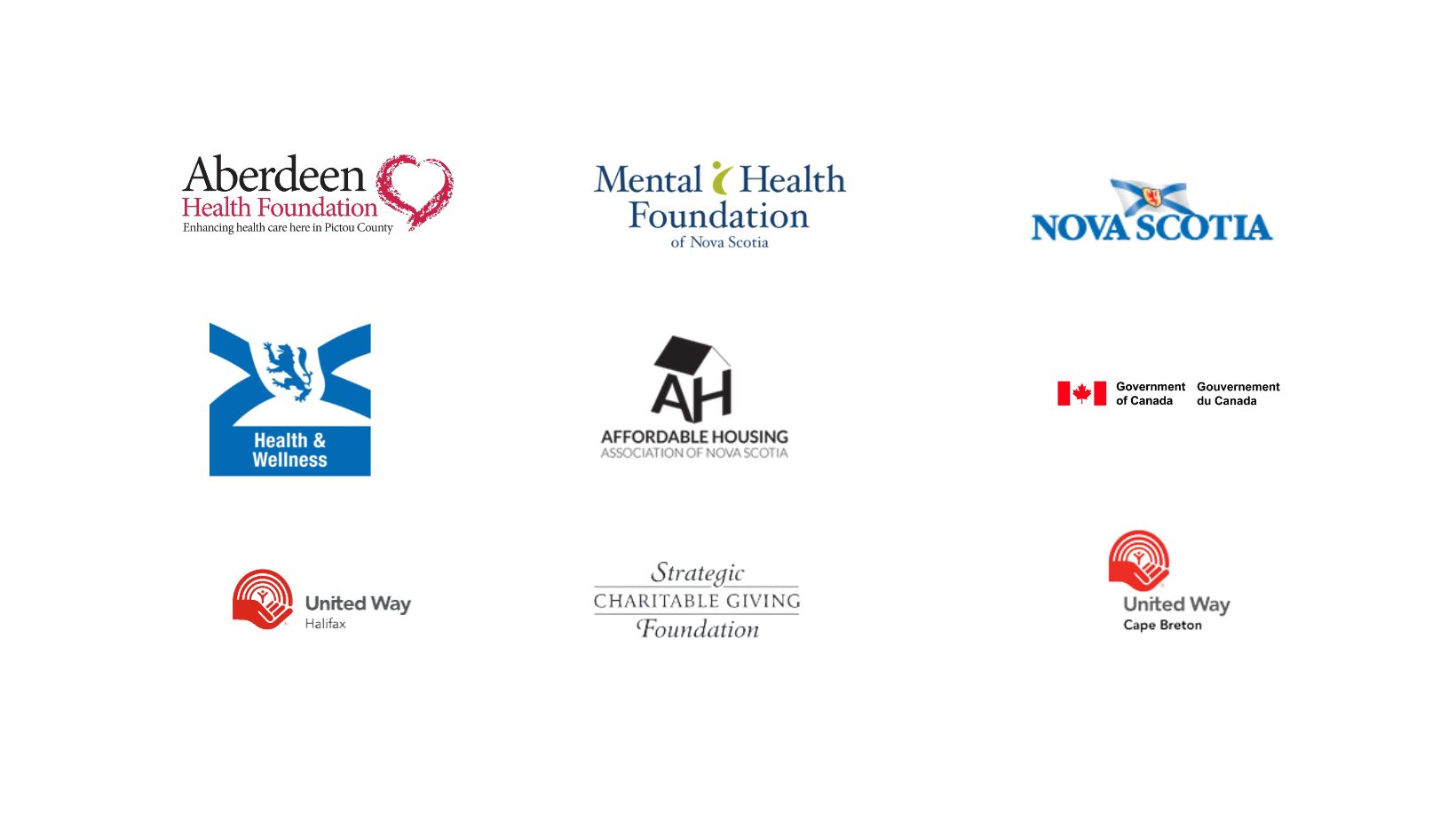 ---

Our Corporate Sponsors
Good mental health is good business.
Even before the pandemic, the mental health care system in Canada was not meeting people's needs. Every year 1.6 million people in Canada already reported not getting the mental health care they need. With the pandemic, the stresses are greater, and the needs are rising.
Isolation, economic insecurity and stress are all contributing to an "echo pandemic" of mental health issues.
Businesses that choose to support CMHA are helping us stop the echo. We are immensely grateful for their generosity and support.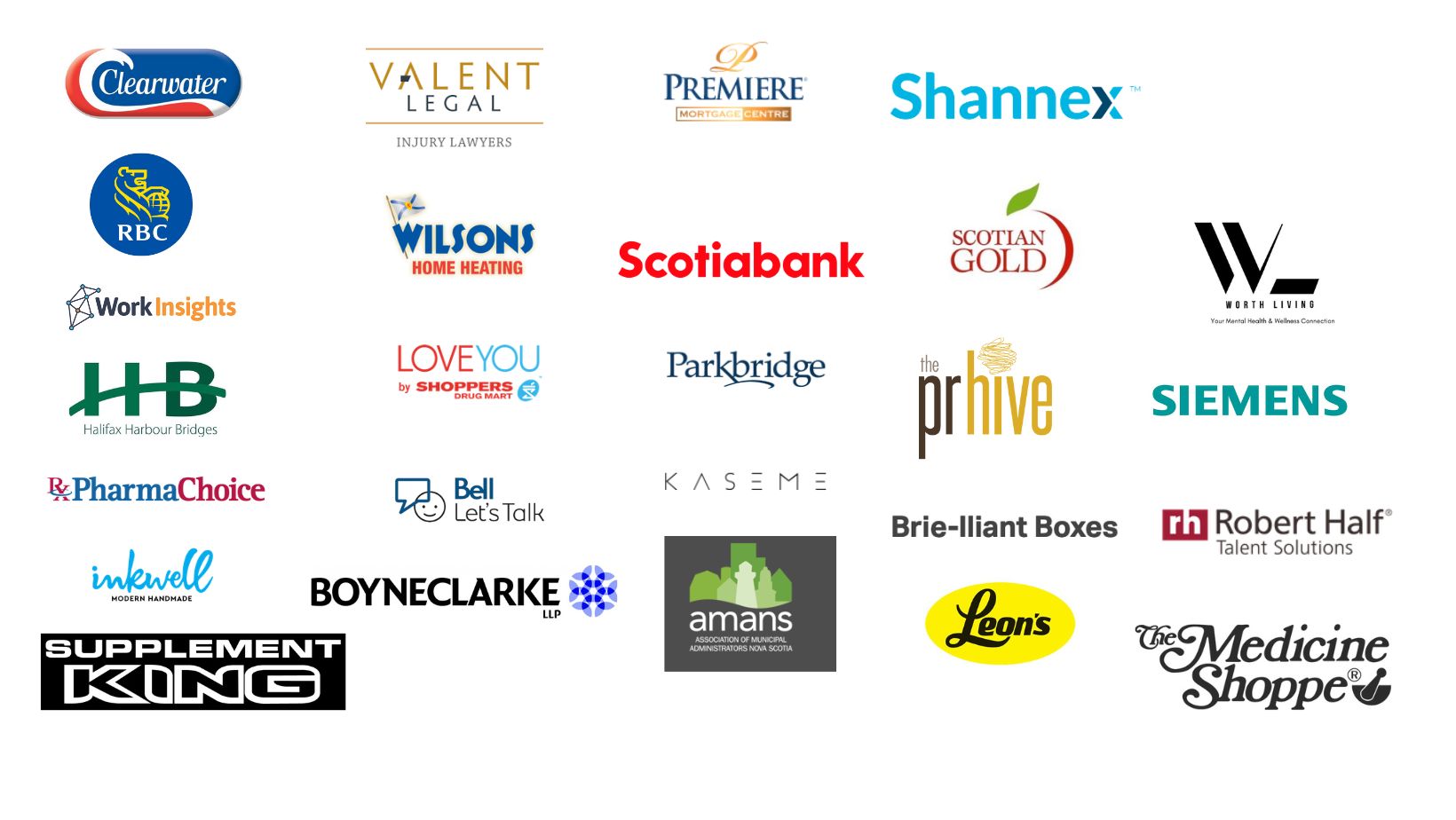 ---

Our Mental Health Champions
Every year, individuals organize their own events, celebrations or campaigns to raise funds for mental health in Nova Scotia. We are so honoured that Nova Scotians chose CMHA NS to receive these funds. We call these people our Mental Health Champions.
Communities and individuals who fundraise in support of mental health are the heart and soul of CMHA NS. Many of the individuals featured here have donated a portion of the proceeds from a community fundraiser or hosted third party events (this means we're not the organizers) where CMHA NS is the recipient of proceeds. How great is that?!? We are immensely grateful for their support, hard work and generosity.  Learn more about these amazing mental health champions below!
DOM DIBB | MY ISLAND RUN

There has never been a more important time to support mental health in Atlantic Canada. That's why Nova Scotian Dom Dib created My Island Run, a mental health awareness campaign he launched May 3,2021 to coincide with the beginning of the Canadian Mental Health Association's National Mental Health Week, May 3-9. Read Dom's story.
---
BETSY EISNER | BUTTONS FOR MENTAL HEALTH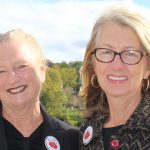 When the COVID-19 pandemic hit, Truro resident Betsy Eisner was inspired to create an initiative that had two goals –  to promote community safety and support mental health programs. "The majority of Nova Scotians and Canadians have not experienced anything like this [the Covid 19 Pandemic] before in their lives. It really brought out how many people are facing difficulties,"  Eisner said of her unique fundraiser. Read Betsy's amazing story.
---
CATHERINE DEVAAL | CAT'S RIDE FOR MENTAL HEALTH
Devastated by the loss of her close friend Cpl. Alexandra Otis, Catherine De Vaal, a 2nd lieutenant with 14 Wing Greenwood, chose to honour her and raise funds for suicide prevention work by cycling half-way across the country. Read Catherine's story.
---
MICHELLE DROVER | WALK IT FORWARD
As the pandemic surged, so did burnout and anxiety. Atlantic-based mortgage broker, Michelle Drover knew she had to do something to support her colleagues and friends as pressure mounted and the boundaries between home and work began to blur. She and her hard-working team selected CMHA NS as a recipient of their inaugural Premiere Cares Walk it Forward campaign. Read Michelle's story.
---
KELLY DIGIOBBI | GAMES FOR MENTAL HEALTH
In January 2021, Kelly DeGiobbi launched Games for Mental Health, an online block draw fundraiser in memory of her best friend's son, Brady, 19, who died by suicide in November.  Read Kelly's story.
---
MICHAEL DALTON | HOLIDAY CONCERT

The holiday season is often recognized as a joyful and celebratory time. But for 1 in 2 Canadians, it's not the most wonderful time of the year. In fact, it can be a painful and very lonely time.
That's something that songwriter Michael Dalton understands well and has worked to highlight nearly every December 25 for the past several years through an annual performance and fundraiser in support for mental health.
---
BREAGH MACDONALD | BREAGH'S RIDE FOR MENTAL HEALTH

Breagh MacDonald believes mental health should be approached with the same level of care and compassion that physical health is, and is proud to support CMHA NS. In June 2022, she celebrated her 33rd birthday by raising more than $5,000 to help CMHA NS make that a reality.
---
RACHEL CREIGHTON | BRIE–LIANT BOXES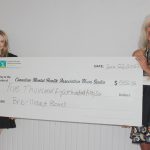 Rachel Creighton graduated from McMaster University at the height of the pandemic. Shortly after she began to feel her mental health deteriorate.
As a person living in recovery, she knew it was critical to her mental health that she seek connection and support. With encouragement from her loved ones she decided to found Brie-lliant Boxes, a custom charcuterie board prep company that allowed her to combine her passion for creating beautiful boards and support community-based mental health by donating proceeds from each sale.
For each board she sold, Rachel allocated 100 per cent of the proceeds to the Canadian Mental Health Association Nova Scotia Division.
---
Do these stories inspired you to become a CMHA NS Mental Health Champion?
Your unique fundraising efforts will help to promote mental health, and support the resilience and recovery of 1 in 4 Nova Scotians who are affected by mental illness. We deeply appreciate every donation! If you would like to fundraise for the CMHA NS, please contact Erin Christie, Provincial Lead, Communications and Community Engagement at erin.christie@novascotia.cmha.ca to let us know what you have planned.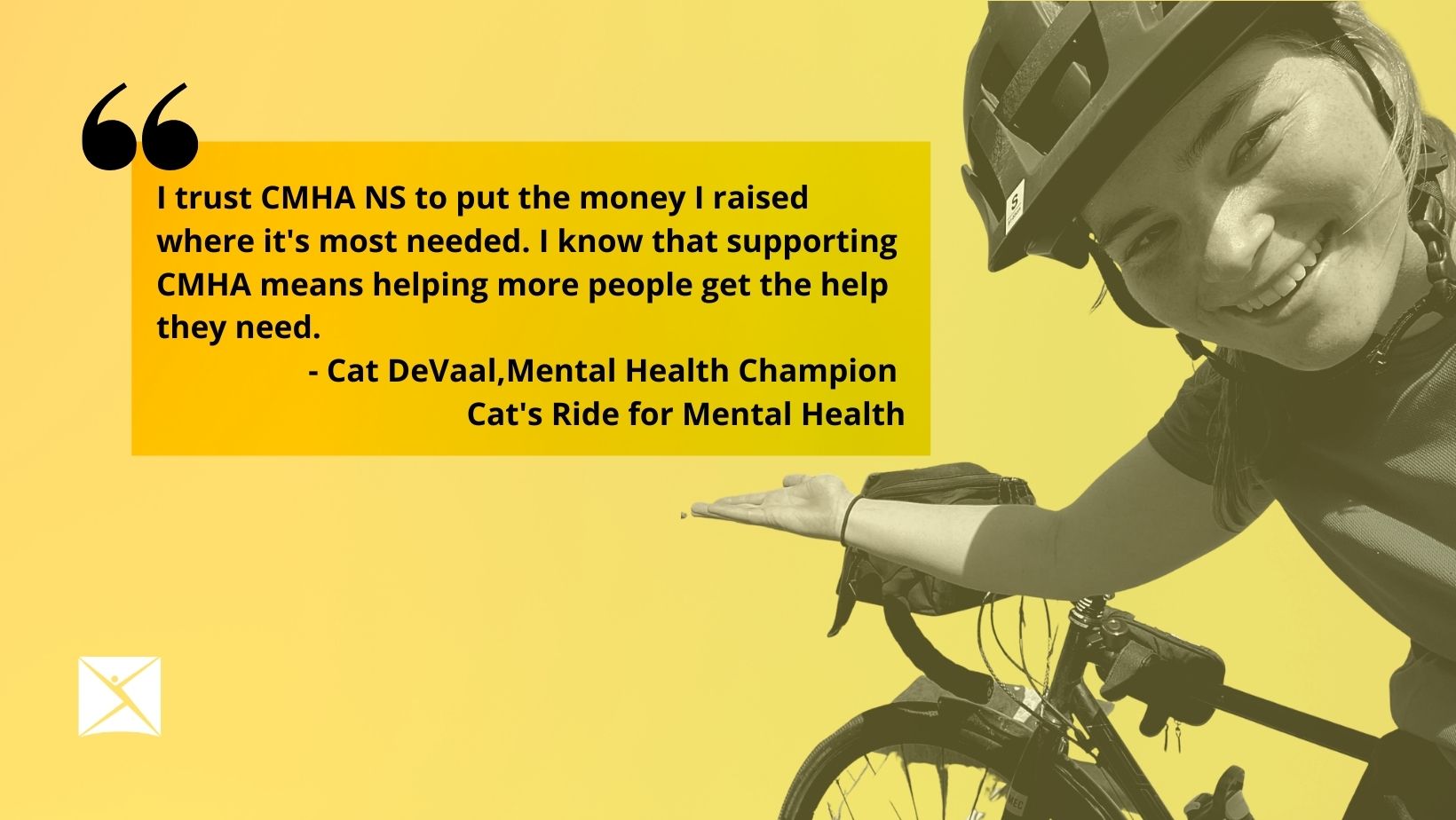 ---
Thank you to all our donors and supporters!