You are currently on the:
CMHA National
Visit our provincial websites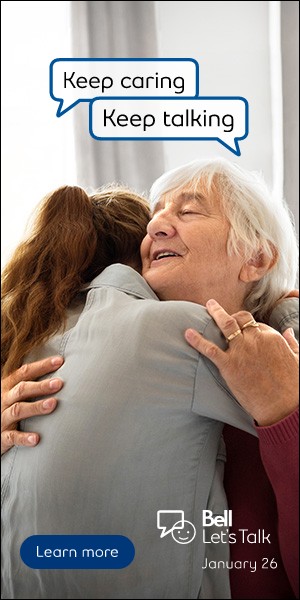 Bell Let's Talk Day – the world's biggest conversation about mental health is January 26
Mar 24, 2022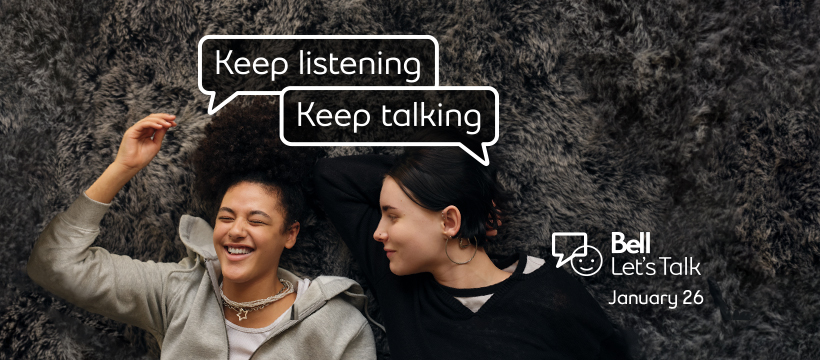 Bell Let's Talk Day is Wednesday, January 26 and we're joining in to help drive meaningful progress in mental health.
COVID-19 has affected every aspect of our lives, including our mental health. However, tools are available to support ourselves and each other.
Since 2010, Canadians and people around the globe have joined in the world's largest conversation around mental health on Bell Let's Talk Day. Together we have taken big steps to reduce the stigma around mental health issues and inspire one another to take action and help create a Canada where everyone can access the mental health support they need. In a recent survey conducted by Nielsen Consumer Insights, 82% of Canadians now say they are comfortable speaking with others about mental health, compared to only 42% in 2012. By joining in and taking action, we are all helping to make a real difference.
This year's Bell Let's Talk Day campaign highlights the ways that we can support ourselves and those we care about through actions like listening, being there and talking.
On Bell Let's Talk Day, Bell donates 5 cents to mental health programs across Canada. For every applicable text, local or long distance call, tweet or TikTok video using #BellLetsTalk, every Facebook, Instagram, LinkedIn, Snapchat, TikTok, Twitter and YouTube view of the Bell Let's Talk Day video, and every use of the Bell Let's Talk Facebook frame or Snapchat lens. All at no cost to participants beyond what they would normally pay their service provider for online or phone access.
When you participate in Bell Let's Talk Day in Nova Scotia, you invest in supports, resources, and programs that help Nova Scotians stay mentally healthy and out of crisis. You become part of a movement that believes Mental Health is Health.
Our Impact:
Programming: Programming and education in 36 communities across the province.
Systems Change: At the division level, we advocate for mental health system change, educate, and influence societal beliefs and behaviours to create a climate of understanding and acceptance. Working with our allies and partners, we push for new systems, policies and practice that foster better mental health and well-being.
Advocacy: And we advocate to improve the spaces, places and conditions that shape mental health.
About Bell Let's Talk Day: In September 2010, Bell Let's Talk began a new conversation about Canada's mental health. At that time, most people were not talking about mental illness. But the numbers spoke volumes about the urgent need for action.  Millions of Canadians, including leading personalities, engaged in an open discussion about mental illness, offering new ideas and hope for those who struggle, with numbers growing every year. As a result, institutions and organizations large and small in every region received new funding for access, care and research from Bell Let's Talk and from governments and corporations that have joined the cause. In March 2020, Bell announced the extension of the Bell Let's Talk mental health initiative for a further 5 years and an increase in Bell's total funding commitment for Canadian mental health to at least $155 million.
About CMHA NS: Founded in 1908, the Canadian Mental Health Association Nova Scotia Division [CMHA NS] is one of the oldest and most extensive community mental health organizations in Canada. CMHA NS supports the resilience, recovery and well-being of people living with mental illness and those experiencing mental health challenges across the province. Through programming, education and advocacy, we strive to create an environment of hope, to reduce stigma, and empower all Nova Scotians to flourish and thrive. Learn more.

Keep listening, talking and being there for ourselves and each other.
Conversation Guides: Sometimes it's hard to talk about mental illness. Knowing what to say or how to say it isn't obvious. To help you, we've created conversation guides that can be used to lead your own discussion about mental health or talk with someone you might be concerned about. DOWNLOAD THE CONVERSATION GUIDE: Bell Lets Talk Conversation Guide 2022
National Standard for Psychological Health and Safety in the Workplace: According to the Mental Health Commission, on any given week, more than 500,000 Canadians are unable to go to work due to mental health problems. It is for this reason that we encourage you to create a working environment that supports the overall mental well-being of your employees. Learn more about the National Standard for Psychological Health and Safety.
National Standard of Canada for Mental Health and Well-Being for Post-Secondary Students: Of the more than 2 million people enrolled in Canadian post-secondary institutions, almost 70% are 24 or under, a demographic particularly susceptible to developing mental health issues. Championed by the Mental Health Commission of Canada, the new National Standard of Canada for Mental Health and Well-Being for Post-Secondary Students is the first framework of its kind in the world, created to guide policies, procedures, and practices that promote positive student mental health and well-being. Learn more about the National Standard for Mental Health and Well-Being for Post-Secondary Students.
Other ways to get involved: This year, with COVID-19 affecting every aspect of our lives, Canadians are feeling the impact of the pandemic on their mental health. Now more than ever, mental health matters and every action counts. Small actions from recognizing stressors, to being there for a loved one can help support mental health and strengthen our communities during this difficult time. For more information and resources related to COVID-19 and mental health, consult their "Psychology Works" fact sheets.
Other ways you can support CMHA NS on Bell Let's Talk Day:
Download the digital self-care activity and post to your story to share your progress. [Self Care Activity – print]
Download our talk bubble and add your own message and post it to your story to share the actions you're taking to create positive change. [Download Talk Bubble and Instructions]
Donate directly to CMHA NS programming and education. When mental health issues are not addressed there can be personal and financial costs to individuals and organizations. Fortunately, with prevention, early treatment and support, many of these considerable costs can be significantly reduced or eliminated. Our Education and Training series provides workshops and presentations for individuals, organizations, and workplaces interested in learning more about mental health. To learn more, visit our Programs, Trainings and Education page. To donate, visit www.Canadahelps.ca
For further information, please contact: 
Erin Christie
Provincial Lead, Communications and Community Engagement
Canadian Mental Health Association Nova Scotia Division
[email protected]