Find your balance.
About: Everyone feels stressed from time to time — it's a natural part of our everyday lives. When stress is overwhelming, is your tendency to turn to unhealthy coping strategies? Who in your social circle is available for you when needed? What strategies are you using to manage stress when it occurs? Sign up for our Stress Management workshop and learn the importance of recognizing stress factors, evaluating stress responses, and managing stress with positive self-care strategies.
PLEASE NOTE: This session is not a clinical training, but rather an opportunity to raise awareness about mental health and offer tools for managing stress.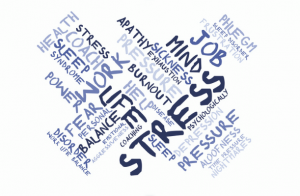 Who Should Attend? This workshop is designed to appeal to anyone interested in understanding and managing stress as part of a long-term self-care plan.
Type: This is a virtual workshop offered over Zoom. (Max 25 participants)

Duration: 3 hours
Audience: Everyone is welcome.
To understand what stress is 

How stress impacts us physically 

How to recognize the signs of stress in yourself and in others

The basic elements of self-care and how to use it to manage stress
Details:
Duration: 180 minutes (3 hrs)
Fee: $600 plus tax (non-profit rate available. Inquire within)
To register or request information please contact Elizabeth Baker, Education and Training Lead at elizabeth.baker@novascotia.cmha.ca
Testimonials for our Stress Management workshop
"It was excellent to be reminded of different ways to cope with stress and to talk about the hard things. I also found learning about all the different ways that the body may react to stressful situations to be very useful."
"It was reassuring to hear that other people have similar struggles and I like the tone that the course was offered in – it normalized my feelings and explained the reason(s) behind them."
"The information and discussion around neuroplasticity and brain routing patterns was interesting and thought provoking. I found the presentation easy to follow and came away with a lot of tools to take away."
"I liked everything in the presentation, but the one that stood out for me was the different types of things we can do to alleviate stress both physically and the way we think (mentally)."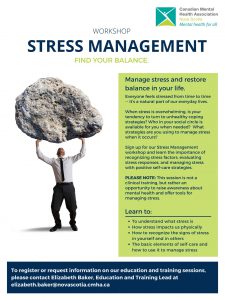 Download the Poster: Stress management