You are currently on the:
CMHA National
Visit our provincial websites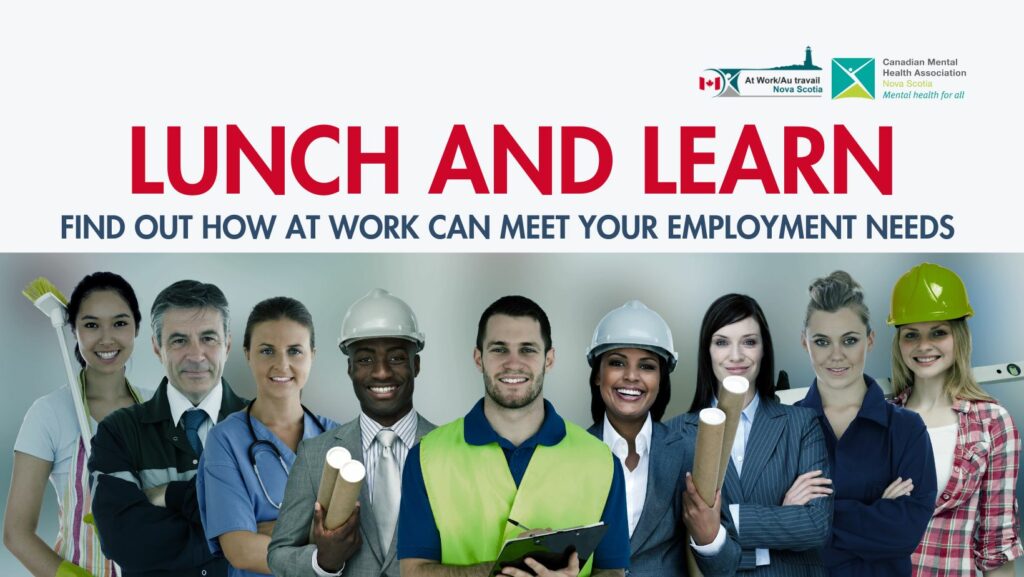 Discover how our At Work program can support you! 
Aug 10, 2023
Having a job is not only possible for people living with a mental illness, it also can be a key component to maintaining good mental health and to recovery.

The At Work program helps Nova Scotians living with a mental illness who are unemployed or under-employed obtain competitive employment by connecting them to workplaces that match their strengths, skills, and needs to build resilience and bring experienced employees to workplaces.
In 2022, 129 Nova Scotians accessed employment support through our At Work program.
Our At Work team holds monthly Lunch and Learns on Zoom to answer questions and review the many unique services employers and job seekers can access through this program.
Lunch and Learns are held the last Wednesday of each month from 12:00 p.m. to 1:00 p.m.
Upcoming Dates:
More about At Work
If you are a job seeker living with a mental illness: Attend one of our monthly Lunch and Learns to find out how At Work can help you achieve your employment goals.
Examples of mental illness include, but is not limited to; social anxiety disorder, chronic depression and post-traumatic stress disorder. [PLEASE NOTE: You do not need a referral or a formal diagnosis to benefit from this program.]
This is a FREE program and anyone who meets the following criteria and is in need of some support in encouraged to reach out.
Individual can't have received employment insurance benefits within five years of entering the program (extenuating circumstances can be reviewed)
Individual must be over the age of 16 and legally entitled to work in Canada
Services At Work offers:
Job coaching
Assistance seeking safe, sustainable employment
Resume building support
Skill matching
Additional Services At Work can provide to Employers:
At Work not only matches employers with trained, skilled candidates, At Work staff are also available to provide basic guidance in creating a safe, mentally healthy workplace and are available to offer support to employers looking to improve their mental health literacy.
Find out if At Work can support you or someone you know. Attend one of our monthly Lunch and Learns or contact Tracy Hiltz at [email protected] to learn more.