You are currently on the:
CMHA National
Visit our provincial websites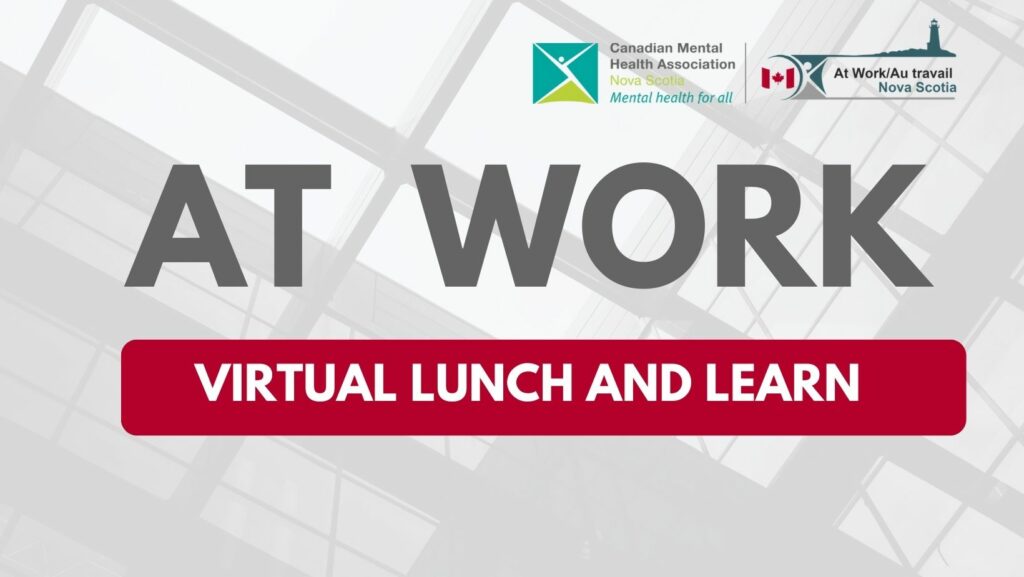 Register for one of our monthly Lunch and Learns to discover how our At Work program can support you! 
Apr 2, 2023
Whether you're looking for employment or looking for employees, At Work can help!
Having a job is not only possible for people living with a mental illness, a safe, sustainable job can play a key role in maintaining good mental health.
The CMHA NS At Work program helps Nova Scotians living with a mental illness who are unemployed or under-employed obtain competitive employment by connecting them to workplaces that match their strengths, skills, and needs as a way to build resilience and bring experienced employees to workplaces.
Working alongside both employers and clients, the At Work team develops achievable action plan that supports mental wellness to ensure success.
No diagnosis is required to access this program.
DETAILS:
Where: Virtual [via Zoom]
Who should attend? Everyone is welcome to attend any of these sessions. We encourage those who think they might qualify for the program and employers who are interested in learning about mental health in the workplace and fostering a safe, inclusive work environment.
Dates: At Work Lunch and Learns are held the last Wednesday of each month [excluding December] from noon to 1:00 p.m. beginning April 26, 2023.
---
What people are saying about At Work:
"After facing a number of obstacles re-integrating into the workforce after receiving treatment, I was finally able to focus on healing and hope. My enrolement into the [At Work] program was a stepping stone to stability. It helped me find my confidence and a career that allows me to thrive."
– former At Work client