You are currently on the:
CMHA National
Visit our provincial websites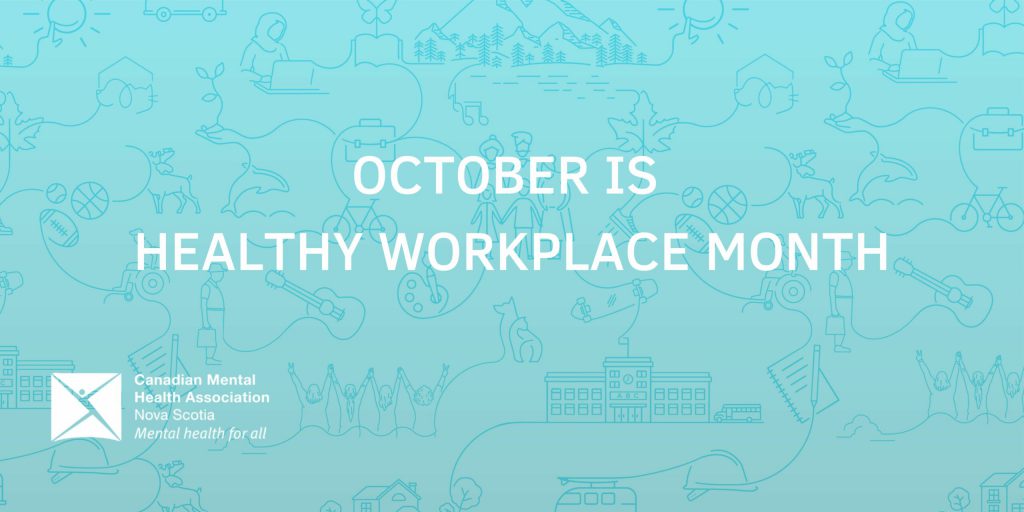 October is Healthy Workplace Month
Oct 4, 2022
Workplaces are changing. CMHA NS can help you make mental health a priority in yours.
From October 1 to October 31 the Canadian Mental Health Association Nova Scotia Division [CMHA NS] joins organizations from coast to coast in recognizing Canada's Healthy Workplace month, (CHWM), a national initiative that focuses on raising awareness around the importance of workplace mental health.
Promoting mental health in the workplace is one of the most important actions we can take that benefit both employees and employers. Research from the Mental Health Commission of Canada consistently demonstrates that mentally healthy workplaces can improve productivity, cut down on absences and increase worker retention.
However, it can be a challenging and overwhelming task, sometimes we don't always know where to start or what support is needed.
How can you create a healthy workplace?
The impact of workplace change on employee mental health is huge. Feelings of stress, anxiety and depression are on the rise. Canadian Mental Health Association (CMHA) research with UBC found that 41% of people in Canada reported a decline in their mental health since the onset of the pandemic. Read the National Standard of Canada for Psychological Health and Safety in the Workplace.
If you are looking to support the mental health of your employees, CMHA NS's workplace mental health training workshops can help.
CMHA NS Training
The Canadian Mental Health Association Nova Scotia Division [CMHA NS] offers psychological health and safety training to improve workplace wellness information and support healthy workplace culture.
Stress Management
Mental Health in the Workplace
Rebuilding our Resilience
Changing Minds
ASIST
To discover how CMHA NS can help employers and employees meet their mental health and wellness goals, contact Elizabeth Baker at [email protected] or visit our Training page.
CMHA NS Programs
Whether you're looking for employment or employees, our At Work program can help! The At Work program connects Nova Scotians living with a mental illness, mental health challenges or substance use disorder who are unemployed or under-employed to workplaces that match their strengths, skills, and needs as a way to build resilience and bring experienced employees to workplaces.
Events
On Wednesday, October 12, 2022, join Karn Nichols, Executive Director of the Canadian Mental Health Association Nova Scotia Division, and Bradley Daye, CEO and Founder of Placemaking P4G as they present From Surviving to Thriving: Workplace Wellness Strategies for the Post-Pandemic World.
This event, held in conjunction with Canada's Healthy Workplace Month is being offered through the Halifax Chamber of Commerce's Power Lunch series.
Materials
---
About Healthy Workplace Month
Canada's Healthy Workplace Month was set in motion in 2001 with the introduction of Canada's Healthy Workplace Week. The web-based initiatives intent is to build awareness of the importance of healthy workplace health for the short and long-term success of organizations and for the well-being of their employees. The week was eventually extended to become Canada's Healthy Workplace Month®. The extended program duration gave workplaces more time to plan, promote and execute programs and activities for their employees.
Today, CHWM is a year round resource that encourages workplaces to promote healthy workplace practices throughout the year. Its website serves as a central hub where organizations of all sizes are enabled to showcase their successes and share with others.
The goals of Canada's Healthy Workplace Month® (CHWM) are to:
Increase awareness of the need for a comprehensive approach to workplace health in Canada that is influenced by the four elements of a healthy workplace: (1) Healthy Lifestyles; (2) Workplace Culture and Mental Health; (3) Physical Environment and; (4) Corporate Social Responsibility.
Provide healthy workplace tools, resources and best practice examples, through www.healthyworkplacemonth.ca, to help organizations create healthy workplaces with benefits for employees and themselves
Increase the number of healthy workplaces in Canada