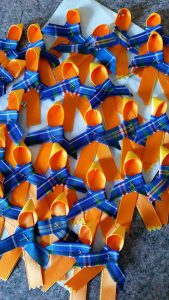 With inspiration from The International Association of Suicide Prevention's (IASP) suicide prevention ribbon (yellow & gold ribbon inset) to support World Suicide Prevention Day, the Canadian Mental Health Association Nova Scotia (CMHA NS) Division's Communities Addressing Suicide Together (CAST) Program crafted their own Nova Scotia version for the CAN (Cast A Net) campaign.
Similar to IASP, the objective with the distribution of the CAN ribbons is to have all Nova Scotian's wearing the CAN ribbon during the span of the CAN campaign (September 10th – November 19th, 2016), raising awareness of the issues of suicide and the meaning of wearing the ribbon.
Yellow and orange were shown to be the two most frequently used colours in suicide prevention awareness around the world. The Canadian Association for Suicide Prevention (CASP) also believes orange and yellow colours illicit feelings of hope, like the dawning of a sunrise on a new day. The CMHA NS CAST Program put a face to suicide prevention awareness and the CAN ribbon with the addition of the yellow hood and a warm East Coast accessory – a Nova Scotia tartan scarf.[1]
Individuals/Groups/Businesses/Organizations can place CAN ribbon orders to:
Fundraise: CAN ribbons can be sold to fundraise for the CMHA NS CAST Program awareness, education and program activities. CAN ribbon may be sold for $2.00 in Nova Scotia communities. At the conclusion of the CAN campaign, unsold CAN ribbons and funds raised must be sent back to the CMHA NS CAST Program.
Distribute: CAN ribbons can be purchased from the CMHA NS CAST Program for $2.00/ribbon for distribution in Nova Scotia communities.
CAN ribbons can be ordered by contacting the CMHA NS CAST Program:
Sue Marchand, CMHA NS CAST Program Community Capacity Developer
t: 902.466.6600 x209 | e: sue@novascotia.cmha.ca
Together We CAN Prevent Suicide in Nova Scotia!
[1] Adapted from International Association for Suicide Prevention (2016). World Suicide Prevention Day Toolkit. Retrieved Thursday August 18th, 2016 from http://suicideprevention.ca/wspd/?utm_medium=email&utm_campaign=World%20Suicide%20Prevention%20Day%20Toolkit%20now%20available&utm_content=World%20Suicide%20Prevention%20Day%20Toolkit%20now%20available%20CID_8f844e8172021f0bac2de7b6c5f92df1&utm_source=Email%20marketing%20software&utm_term=httpsuicidepreventioncawspd