---
A Nova Scotia-based 2nd lieutenant with 14 Wing Greenwood has cycled 1,800-kilometres and raised $5,000 dollars for suicide prevention programming in this province.
When Catherine De Vaal began her 17-day journey on July 31, 2021 she had two goals — to honour her late friend Cpl. Alexandra Otis, and to raise as much as she could for CMHA NS in Otis's memory.
De Vaal met Cpl. Alexandra Otis at Albert Head Cadet Training Centre in Victoria, British Columbia, before Otis elected to be re-based in Nova Scotia. The two quickly became close friends. Otis died by suicide in October of 2019.
Devastated by the loss, De Vaal says she chose to honour Otis by cycling, something they had both enjoyed and brought back "many fond memories," for De Vaal.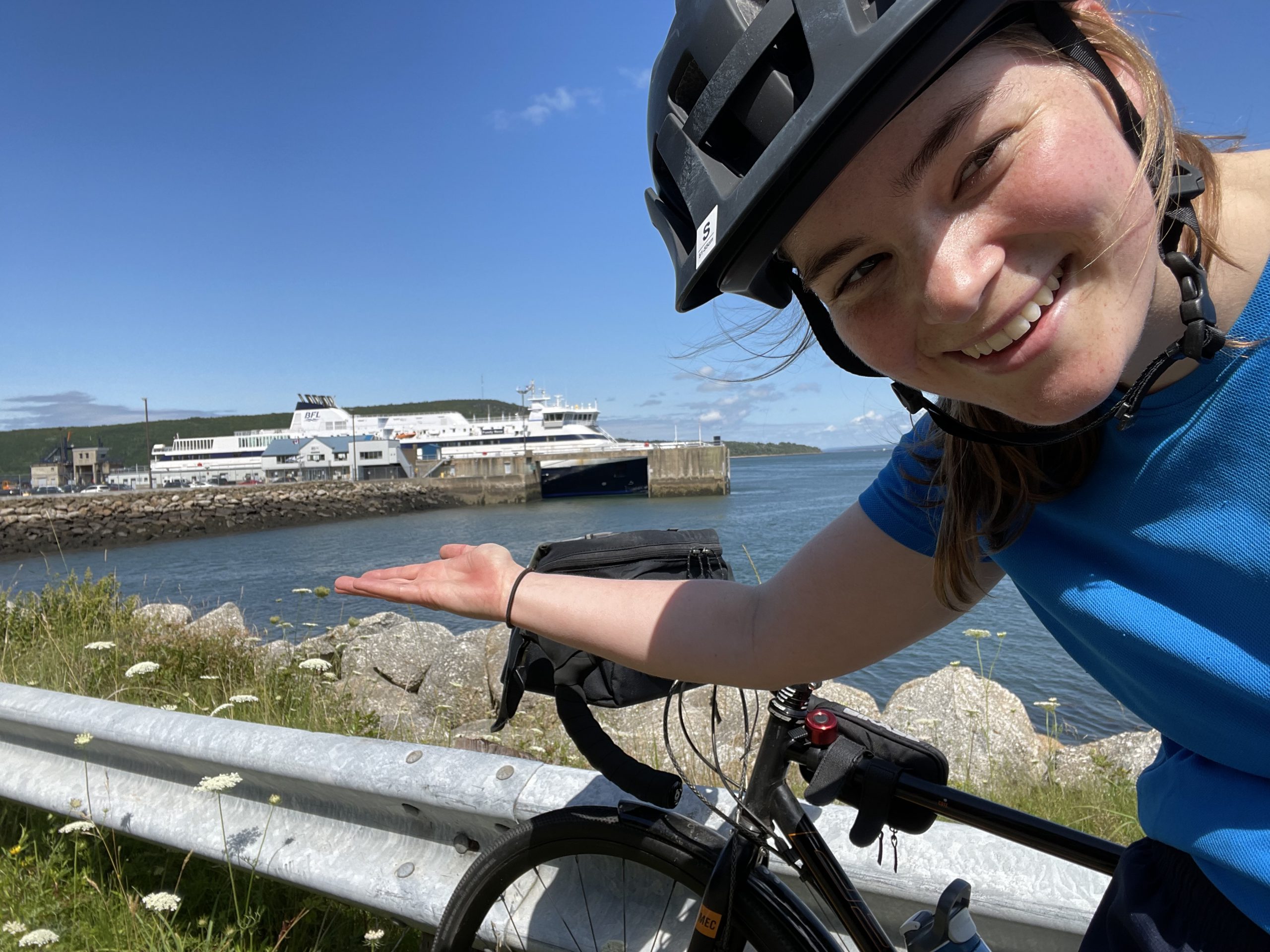 (Courtesy: Cat De Vaal)
---
She opted to raise funds during the ride and donate the proceeds to CMHA NS to fund programs that would promote suicide prevention and education with the hope of preventing further loss. 
"I trust the Canadian Mental Health Association Nova Scotia Division to put the money toward its best use," said De Vaal. "They would know best where the funds would be best utilized to help the most people."  

She called her initiative Cat's Ride for Mental Health. It kicked off in Greenwood, Nova Scotia and ended in Guelph, Ontario, where Otis' family live, and where a bench is located in Otis's honour. The bench for Otis holds a secondary meaning as it is across from the McCrae House Museum, which pays tribute to Canadian Poet John McCrae, the author of "In Flanders Fields."
"When I arrived at the finish line, which was the Cpl Alexandra Otis memorial bench in Guelph, Ontario, the immediate feeling I had was joy. I had made it to my goal! And seeing some family there, some friends, some local military members, a member of the CMHA from that area, and people from the news there to offer their support was really heart warming and awesome."
Over the course of her journey, which clocked in at roughly 1,800 kilometres, De Vaal said she met dozens of people and had some "powerful discussions regarding mental health."
"Some people came forward and shared their own experiences struggling with mental health, and others shared experiences of a loved one's challenges. I've found it can be difficult to share your story, but if you do, it can help others and also it can help you to feel more connected."
She hopes her ride would encourage others to reach out for help when they need it. 
"There is no health without mental health. I rode for Alex and raise money for CMHA. But I also hope my story and the ride will spark some discussions and spread awareness too. I hope anyone struggling with their mental health or struggling with suicidal thoughts can feel supported to reach out and seek help." 

Looking for resources? Visit https://novascotia.cmha.ca/mental-health/find-help/
---
** If you need help, please know, you are not alone. Help is available. **
Wellness Together Canada (Free, live counseling via phone or text, Website )
Phone: 1-866-585-0445 (Adults) |1-888-668-6810 (Youth) | Text: WELLNESS to 741741 (Adults) or 686868 (Youth) | Frontline Workers text: FRONTLINE to 741741
Nova Scotia Mental Health and Addictions Crisis Line (nshealth.ca) Toll free: 1-888-429-8167 available 24/7
Canada Suicide Prevention Service | Crisis Services Canada 1-833-456-4566 (toll free) | Text: 45645 – available 24/7/365 days a year EST (standard text messaging rates apply)
Nova Scotia Mental Health and Addictions (nshealth.ca) Intake service: 1-855-922-1122
To learn more about Suicide Prevention and the resources available in Canada and in Nova Scotia visit: https://novascotia.cmha.ca/cast_resource_hub/