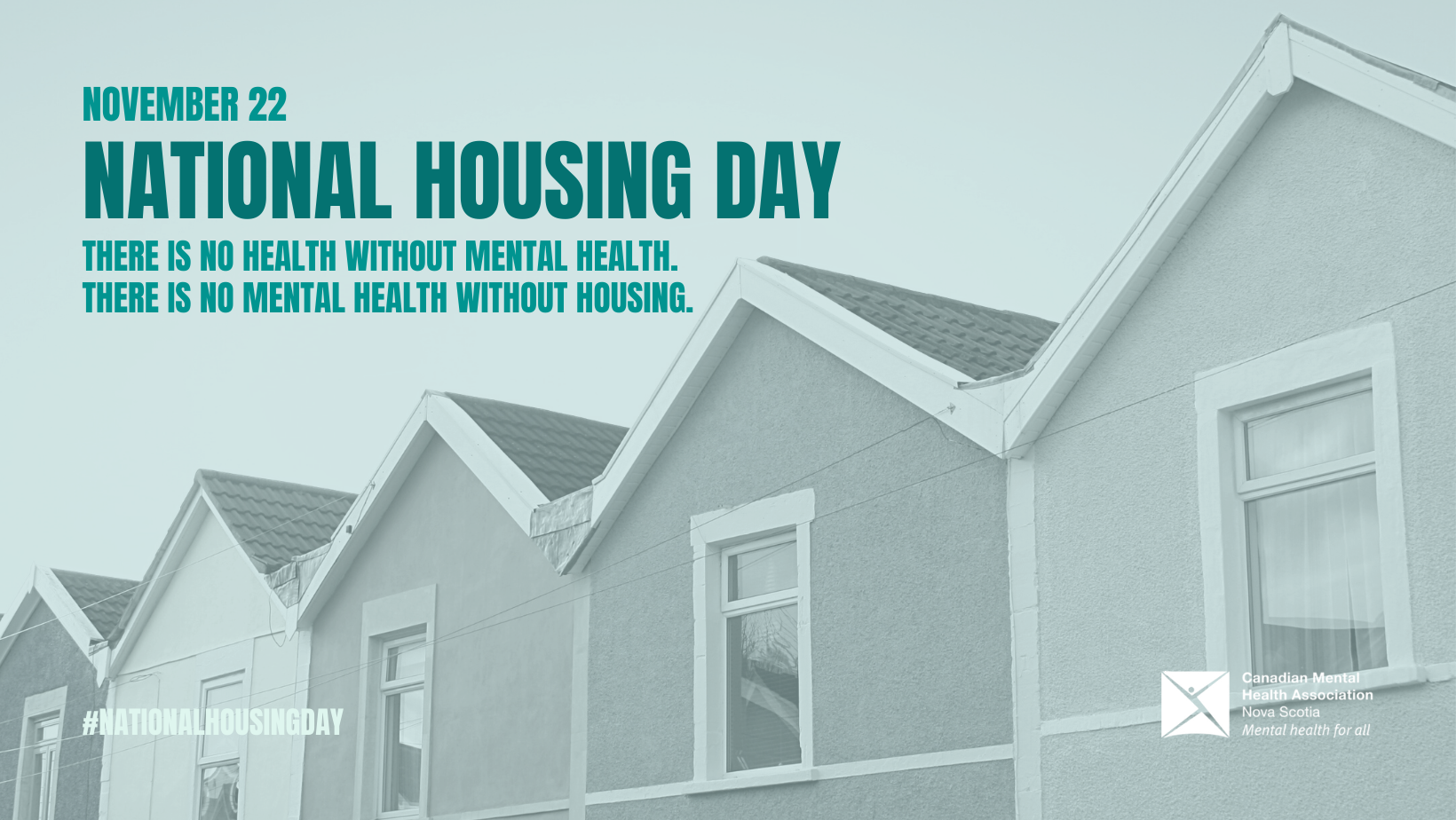 On November 22, the Canadian Mental Health Association Nova Scotia Division (CMHA NS), CMHA Halifax-Dartmouth and CMHA Colchester East-Hants joins communities and organizations across the country to mark National Housing Day and recognize the challenges faced by many people in finding a place to call home.
National Housing Day calls on the need for safe and affordable housing for all Canadians. 
Across the country, 1.7 million people are in need of housing and more than 235,000 people experience homelessness in any given year, and 25,000 to 35,000 people may be experiencing homelessness on any given night.
In Nova Scotia, 11.4 per cent (45,100)  are in core housing need. This means that they cannot access affordable, suitable, adequate housing without spending at least 30 per cent of their total household income on housing. In 2019, 12.1 per cent of Nova Scotians lived below the poverty line – the second highest rate in Canada. 
On October 20, the provincial government announced a plan to support 1,100 new affordable housing units in communities throughout Nova Scotia and make 425 new rent supplements available to help reduce homelessness and improve the availability and quality of housing for Nova Scotians in need.
In partnership with other community stakeholders, CMHA Division and branches continue their efforts to promote the need for housing and the need to reduce barriers to housing as one way to reduce the overall costs to health care, police and justice, and social services sectors.
Today, and everyday, join us in calling for safe, sustainable and affordable housing for all Nova Scotians.
Fast Facts: 
Almost 70 per cent of public housing tenants and 60 per cent of rent supplement clients in Nova Scotia are women; people of African descent and other racialized groups continue to experience systemic barriers when they try to access affordable housing

Nova Scotia's population grew from 942,970 in 2016 to 979,449 in 2021 (as of Jan. 1), but the housing supply has not kept pace with demand
About National Housing Day: National Housing Day is held on November 22. It's a day to recognize the important work being done to improve access to safe, affordable and sustainable housing for everyone, and to reflect on the work that still needs to be done. The date commemorates the moment in November 1998 when Federation of Canadian Municipalities (FCM) joined with front line housing and public health advocates to declare homelessness a national disaster. 
More information: 
The Nova Scotia Affordable Housing Commission has submitted 17 recommendations to the Government of Nova Scotia, which we believe will make a significant impact to increase the number of affordable rental housing options that meet the diverse needs of Nova Scotians, while reducing the number of people in housing need. Read them HERE
Through our Project H.O.P.E Program, CMHA NS Project H.O.P.E  [Housing, Outreach and Peer Empowerment] works with people who reside in Nova Scotia and who are homeless or at risk of homelessness locate and secure safe, sustainable, affordable housing.
This program provides:
Safe affordable access to housing
Community based private market housing
Search for affordable housing
Landlord/tenant resolution and tenancy support
Supports to maintain housing in the community
Learn more about Project H.O.P.E
Sources:
Statistics Canada
Government of Nova Scotia
Nova Scotia Affordable Housing Commission
CMHA National