MEDIA RELEASE — A new fundraising calendar will support mental health this holiday season.
The 26-page wall calendar produced by Halifax Harbour Bridges (HHB) features images of the Angus L Macdonald Bridge and the A Murray MacKay Bridge taken by a variety of bridge-loving photographers.
Canada's fourth and fifth longest suspension bridges are featured from above, below, and in every season.

"They are photos taken by people who obviously feel a special connection with the bridges," said HHB Manager and CEO Steve Snider. "We first spotted them in social media and then reached out to the photographers to see if they wanted to be part of a limited edition fundraising calendar."
Snider continues, noting that the calendars would make excellent stocking stuffers for those who may be far from home.
 "One in five Canadians will experience a mental illness in any given year. But five in five – that's all of us – have mental health. And we all need to take care of it, " said CMHA Nova Scotia Executive Director Karn Nichols. "We are appreciative of this fundraiser and the HHB's efforts to get that message out there with this beautiful calendar. The need for our programs, support and resources has never been greater, so every little bit helps."
The calendars are $19.95 plus shipping with proceeds going to CMHA NS in support of programming and education that address the social determinants of health, including housing, employment and connection.
Order online on the Halifax Harbour Bridge website.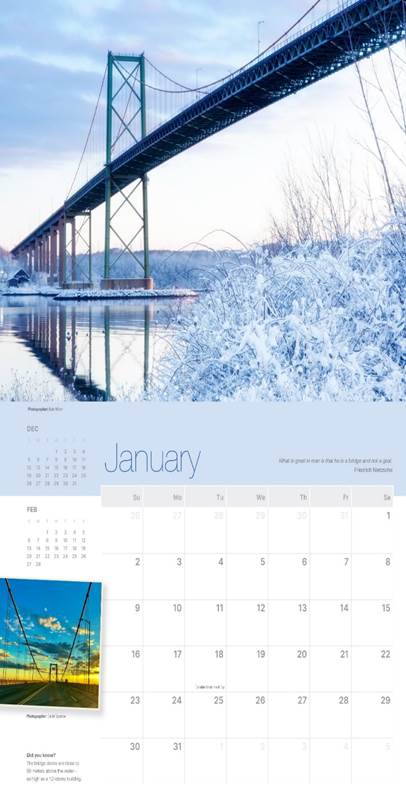 For more information contact:

Erin Christie
Communications, Marketing and Sponsorship Lead
Canadian Mental Health Association Nova Scotia Division (CMHA NS)
erin.christie@novascotia.cmha.ca