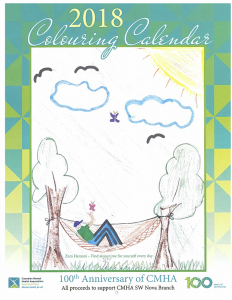 The drawings in this calendar were done by the grade 5 students at Meadowfields School in Yarmouth, Nova Scotia. Their teacher, Connie Penney, had all 80 students do line drawings with a mental health theme. She and the members of the CMHA Southwest Branch chose the final drawings for the calendar – a difficult task given the quality of all the drawings! Our heartfelt thanks to all 80 students. Mrs. Penney and to Meadowfields School, for their thoughtful and enthusiastic participation in this project.
Peter Croxall
Board Chair – Southwest Nova Branch
Canadian Mental Health Association
To pick your copy of the calendar (suggested donation of $10.00) stop by our Nova Scotia Division office or our Southwest Nova Branch.