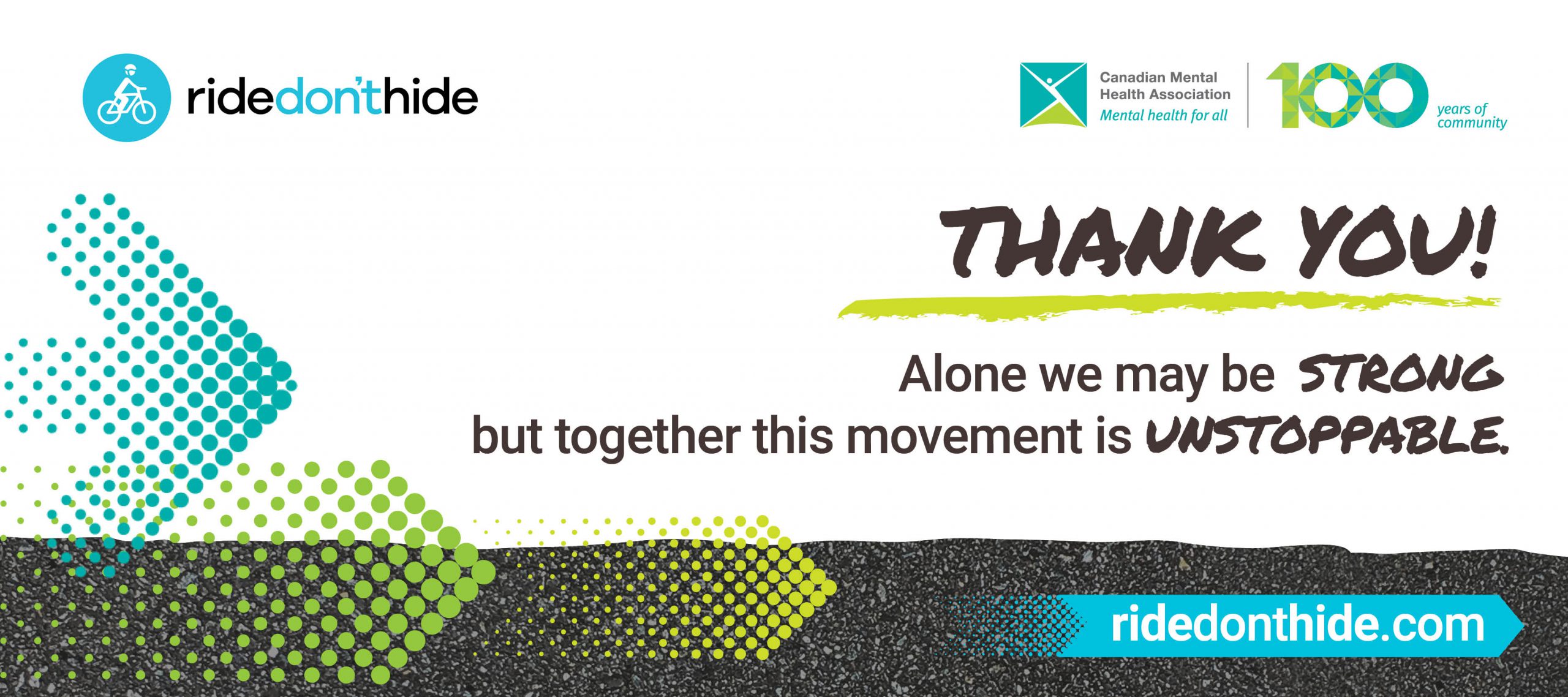 The Canadian Mental Health Association Nova Scotia Division is proud to report that, thanks to our amazing supporters, partners, riders and donors, we have exceeded our $10,000 fundraising goal for the 2021 edition of Ride Don't Hide.
In total, our 16 riders, Siemens Nova Scotia team and generous donors raised an incredible  $10,765. That means more funds to help support essential programs and services for mental health for Nova Scotians. Programs that keep people out of crisis. Programs that keep people well.
"Ride Don't Hide 2021 saw such impressive support in Nova Scotia," said Dr. Rod Wilson, Chair of the Board of Directors at CMHA Nova Scotia.
"I am blown away by people's generosity — their commitment to ride and not hide, their commitment to ride for their  own mental health and to raise funds in their own community to ensure that no one has to ride alone, is beyond inspirational. From the bottom of our hearts, Thank you Nova Scotia."
Founded in British Columbia in 2010 by Michael Schratter, Ride Don't Hide is the largest mental health bike ride in Canada.
It began when Schratter, a Vancouver teacher and newspaper columnist, embarked on a global journey to raise funds for CMHA BC Division and raise awareness about the stigma surrounding mental illness. He circumnavigated the world, cycling 40,000 kilometres, across six continents and 33 countries, inviting the people he met along the way to help end mental illness stigma. He posted their pledges and stories on his website, where he shared photos and reflections from the road.
CMHA BC Division, along with CMHA branches in Vancouver-Burnaby and North and West Vancouver picked up  Schratter's torch, and in the following year raised $75,000 and engaged 500 participants.
Now, Ride Don't Hide is in more than 25 communities across eight provinces with close to 10,000 participants each year. To date Ride Don't Hide has raised more than $10 million for local mental health programs and services and has become the largest cycling event of its kind in Canada.
But it's more than a fundraiser—it's a movement for mental health.
To learn more about Ride Don't Hide and how you can join the movement in 2022, please contact:
Erin Christie
Communications, Marketing and Sponsorship Lead
Canadian Mental Health Association NS Division
erin.christie@novascotia.cmha.ca