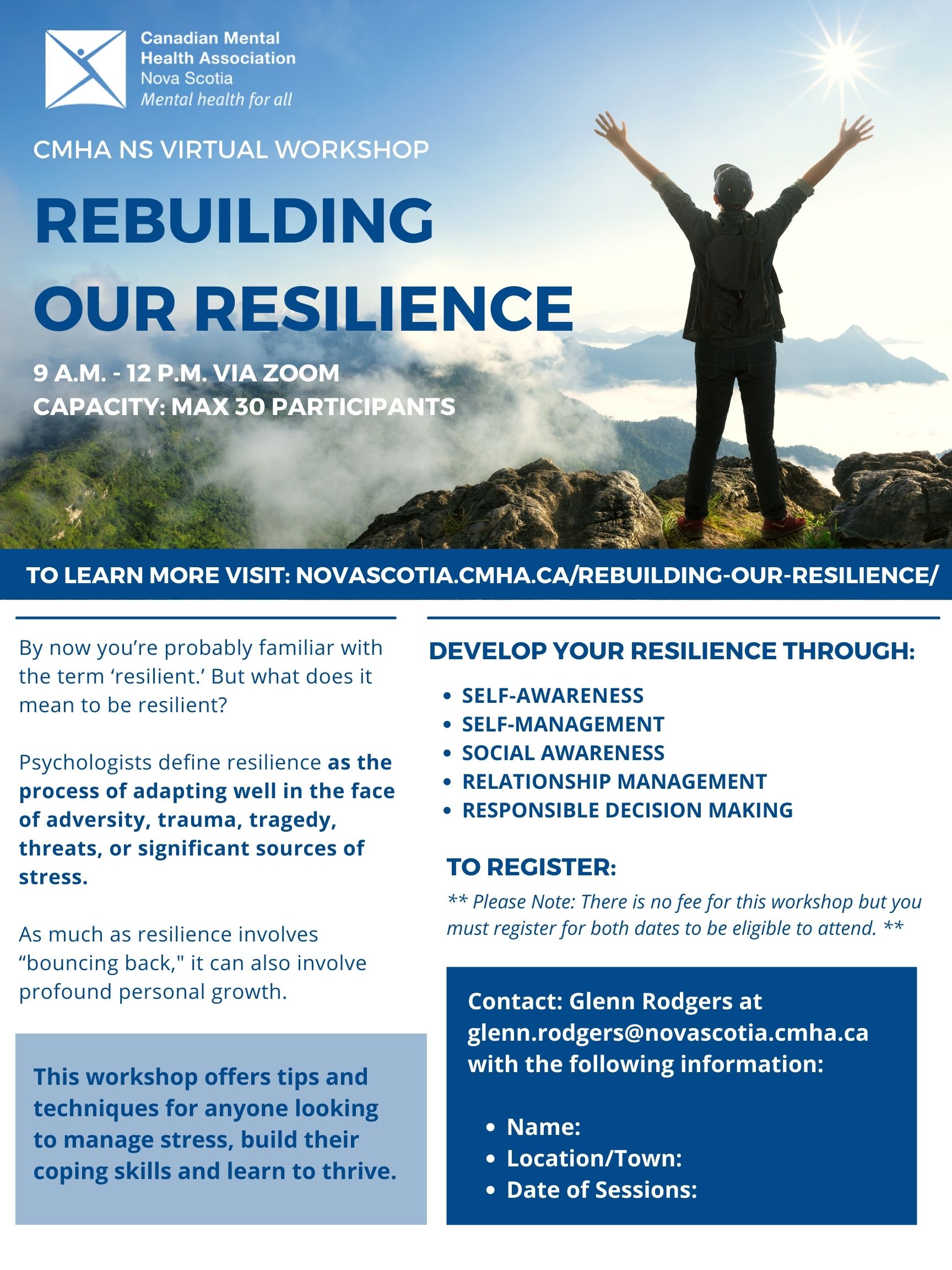 The Canadian Mental Health Association Nova Scotia Division is proud to announce that we will be continuing to offer Rebuilding our Resilience workshop this fall. This free to access, two-day resilience building workshops is now available in Antigonish,  Guysborough, Shelburne, Pictou, Halifax, Queens County, Kings County, Hants County and Annapolis County.
See below for dates and times and please check back for upcoming schedule dates.
Financed by the Scotiabank Resiliency Grant from the Mental Health Foundation of Nova Scotia, CMHA NS Division Education and Awareness Program Lead Elizabeth Baker says the sessions are designed to offer tips and techniques to help participants assess and build their resilience level.

"Resilience won't make your problems go away — but it can give you the ability to see past them, find enjoyment in life and better handle stress," said Baker.
"If you aren't as resilient as you'd like to be, this workshop can help you develop skills to help protect you from various mental health conditions, such as depression and anxiety, offset factors that increase the risk of mental health conditions and improve your coping ability."
This workshop offer tips and techniques for anyone looking to engage with their long term mental health journey by building their resilience through the Social Emotional Living Competencies:
Self-awareness

Self-management

Social awareness

Relationship management 

Responsible decision making
Within these competencies, this workshop covers a variety of topics including:
Problem-solving

Communication skills

Conflict management

Understanding triggers

Boundaries

goal setting

Rebuilding healthy social connections
Details:
Fee: There is no fee to attend this workshop.
Schedule: all classes run from 9 a.m. to 12 p.m.
| | |
| --- | --- |
| September 14 – 15 |  Antigonish |
| September 21- 22 |  Guysborough |
| October 5 – 6 |  Pictou |
| October 12 -13 |  Shelburne |
| October 26 – 27 |  Queens |
| November 2 –  3 |  Lunenburg |
| November 16 – 17 |  Halifax |
| November 23 – 24 |  Hants |
| December 7 – 8 |  Kings |
| December 14 – 15 |  Annapolis |
Venue: Zoom
*** Please Note: This virtual workshop is offered over two days, and to get the full benefit of attending, you must register for both dates to be eligible to attend.***
To register, contact Glenn Rodgers at glenn.rodgers@novascotia.cmha.ca. Please include your name and the county you reside in, in your email.