Beginning this fall, CMHA NS and Roots of Hope will launch Making Connections: Supporting Adult Caregivers of Rural 2SLGBTQIA+ Youth in Nova Scotia, a free virtual six-session informational series for parents, caregivers and adults who play supportive roles in the lives of a 2SLGBTQIA+ youth.
The series kicks off in September with guest facilitator Carmel Farahbakhsh.
Farahbakhsh is the Executive Director and Support and Advocacy Coordinator of the Youth Project. Their session, Building Soft Landings for 2SLBGTQIA+ Youth will be held via Zoom at 6:30 p.m., Wednesday, September 7, 2022.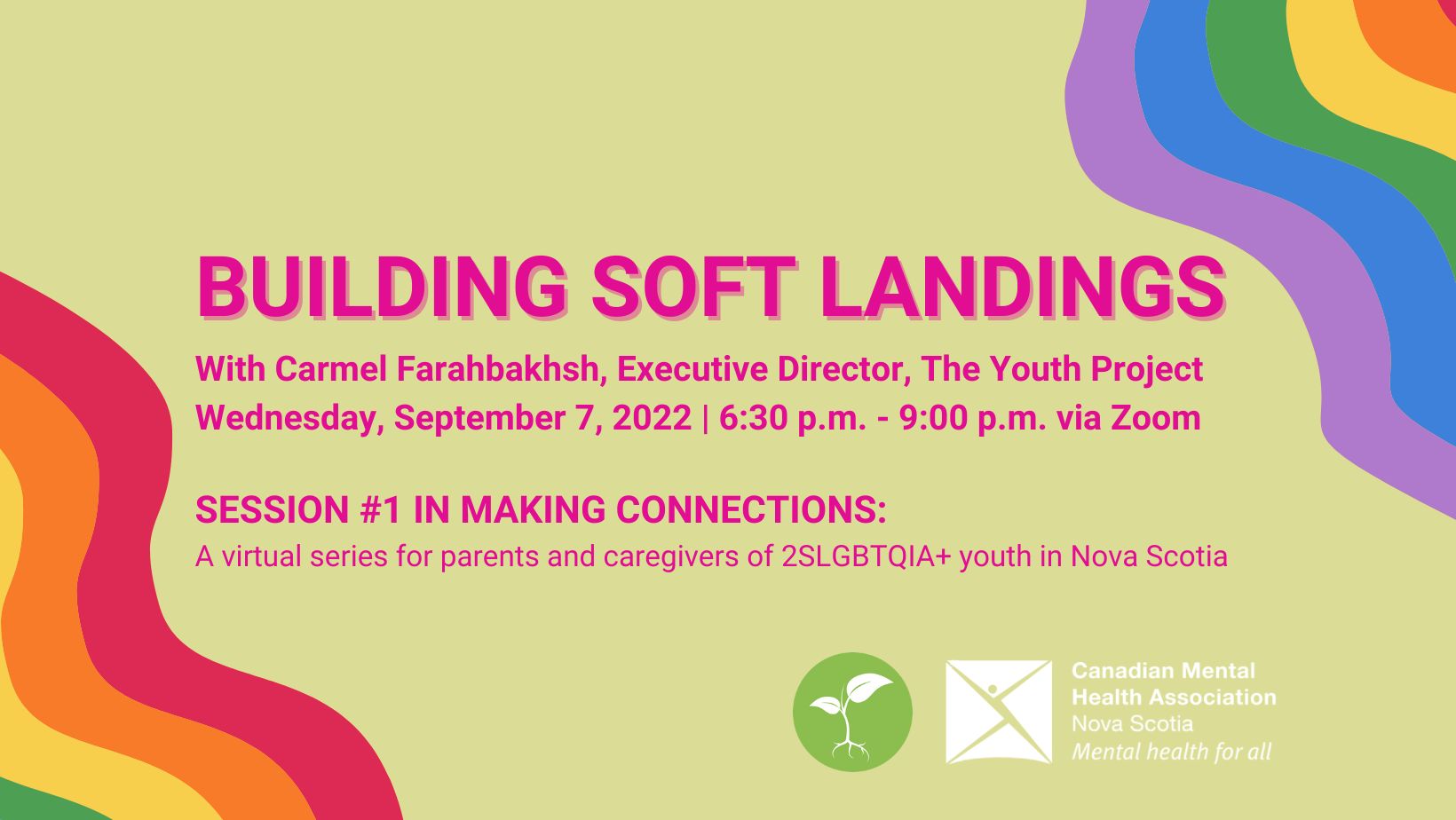 About this session: 
Building Soft Landings is a discussion-based workshop geared towards parents, caregivers, guardians, and/or mentors of 2SLGBTQIA+ youth navigating the realities of coming out, isolation, gaps in localized resources, and building community.
In this session the facilitator will discuss foundations of gender and sexuality 101 while also sharing stories, best practices, and affirming tools that can create spaces of care, celebration, and sustainable support networks for the 2SLGBQTIA+ youth in our lives as well as for the folks that love them. Bring questions and come as you are!
About this series: 
Research shows that strong parental/caregiver understanding and support is one of the protective factors when it comes to 2SLGBTQIA+ mental health and is important in reducing the risk of suicide in this higher-risk population.
CMHA-NS and Roots of Hope understand that parents and caregivers need accurate and up-to-date education as well as access to peer support as they help the 2SLGBTQIA+ youth in their lives to grow and thrive.
Sessions are planned for October, November, December, January and February. The full schedule, including the topics and facilitators will be announced in September.
Each session will be centred on a specific topic with a subject expert presenting or facilitating.
These sessions will run from 6:30 p.m. – 8:00 p.m.. From 8:00 – 9 :00 p.m. there will be an optional facilitated online meeting area for interested participants to stay on to debrief and meet other parents and caregivers from around the province.
All sessions will be held online on the CMHA-NS Zoom website. Registration is through Eventbrite and the Zoom link will be sent to all registered participants the day before the event.
The goal of this series is to:
1) Increase access to educational opportunities for parents and caregivers by sharing the knowledge of professionals and subject experts through the speaker series.
2) Increase opportunities for connections across Nova Scotia by focusing on connecting caregivers in rural areas with one another to allow sharing of experiences and support.
Who should attend: This series is for parents and caregivers of 2SLGBTQIA+ youth in Nova Scotia. Caregivers who want to gain up-to-date education and information from an array of subject experts, and to meet other parents and caregivers from around the province.
Questions, please contact Project Coordinator Lindsay Miller at lindsay.miller@novascotia.cmha.ca