June 1, 2021
1:00 pm to 2:00 pm
Add to Calendar (iCal)
Add to Google Calendar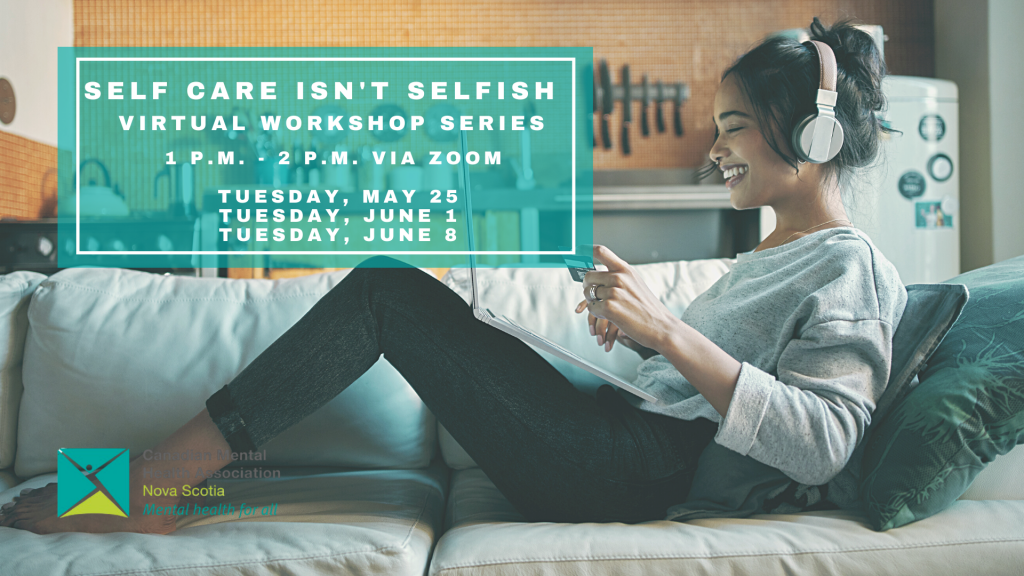 While taking luxurious baths can feel great, self-care goes far beyond that.  
True wellness requires more than skincare serums, kitchen gadgets and scented candles—and you don't always need to spend money to feel good. 
Self-care means taking small steps to live a healthy lifestyle every day.  It CAN include a luxurious bath… or baking banana bread…or brushing your teeth. It can also doing your taxes or having a difficult conversation.   
So, what exactly IS self-care, and how do you practice it in a meaningful way?   
Attend our free workshop series and find out!  
Starting Tuesday, May 25, join CMHA NS Educators Elizabeth and Lindsay from 1 p.m. to 2 p.m. for a series of three free virtual interactive workshops designed to help participants better understand what self-care is, and how to develop a personal self-care plan. At the end of the series participants will have created their own self-care plan built around four main areas:  
Emotional/Mental wellness

Physical well-being

 

Environmental well-being

 

Relationships

 
Workshop dates:  
May 25 – 1 p.m.– 2:00 p.m. 

June 1- 1 p.m.– 2:00 p.m. 

June 8 – 1 p.m.– 2:00 p.m. 
 Who should attend?
Anyone who is interested in learning more about self-care and is over the age of 19.  
To register, please contact:  Elizabeth.baker@novascotia.cmha.ca