June 3, 2021
1:00 pm to 2:00 pm
Add to Calendar (iCal)
Add to Google Calendar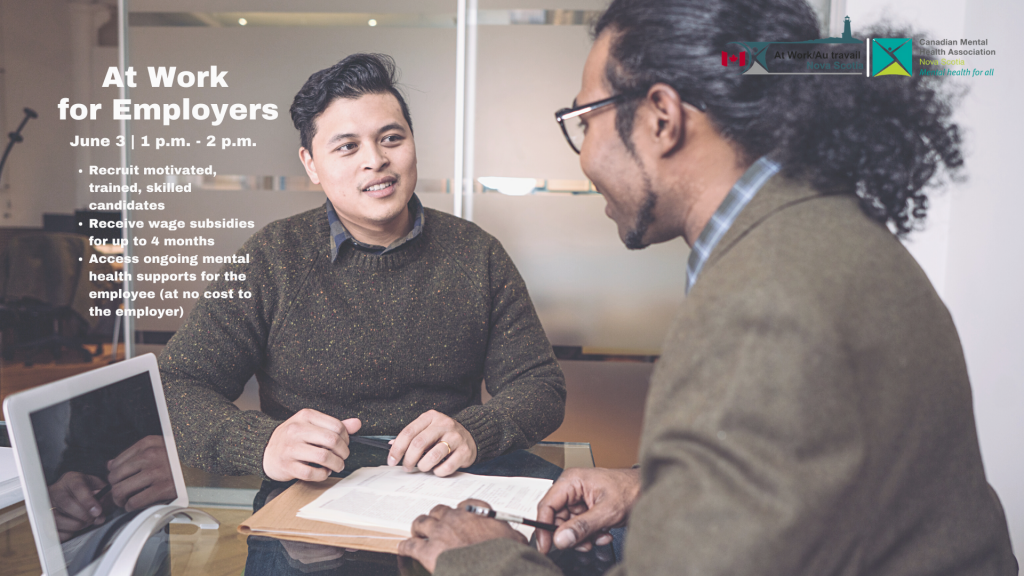 On Thursday, June 3 from 1 p.m. to 2 p.m., our AT-Work | Au Travail team, Sally, Tracey and Danica, will host an online information session for employers interested in learning about the benefits of participating in our AT-Work|Au Travail program. 

About: With 1 in 5 Canadian adults experiencing mental illness in a given year, chances are, someone in your workforce is facing a mental health challenge. People suffering from mental health issues often won't disclose them to an employer out of fear of being labeled weak or incompetent. But the truth is that mental illness is no different than any other illness and should be treated as such.  Experience tells us that employers who prioritize its employee's mental health and work to reduce stigma foster better community relationships, improve employee retention and create healthier, more productive workplaces.   
If this is something you're interested in, CMHA Nova Scotia's At-Work/Au-Travail program might be for you.  
 How does AT-Work|Au Travail Support Employers?  
Through the AT-Work | Au Travail program, employers gain access to motivated, trained, skilled candidates, wage subsidies for up to four months and ongoing mental health supports for the employee at no cost to the employer.  
Who Should attend?  Employers looking for motivated, trained, skilled candidates.
This session will be held via Zoom and there is no cost to attend. We ask that those planning to attend please register in advance.
To register please contact:  Sally Tucker, At-Work/Au Travail Team Lead |  sally.tucker@novascotia.cmha.ca
---
About AT-Work|Au Travail:  
At Work/Au travail is a national collaboration delivered in communities across Canada, including communities that span across Nova Scotia. Using a strengths-based approach, we connect people to meaningful employment supports, helping us to make Nova Scotia a diversified, equitable place for all people to work.
To learn more visit: https://novascotia.cmha.ca/at-work-au-travail-project/