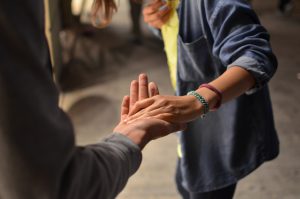 Are you wondering how to help others who are having suicidal thoughts? The Community Suicide Awareness tutorial powerpoint will help you understand what you can do if you are concerned that someone may hurt themselves. You can download this PowerPoint to gain a better understanding of the stigma around suicide, how to spot the signs someone is suicidal and how to help someone who is having suicidal thoughts. Click on the microphone image at the top of the slide to hear the commentary. You can also listen to this presentation on our YouTube Channel!
The World Health Organization recognizes community-based initiatives as playing an important role in preventing suicide. By understanding some basic information on suicide you will become an important resource in your community in helping keep people safe.  
The purpose of this presentation is to bring more awareness what community members can do to  reduce suicide in their communities. As well, we would like to introduce you to our online resource  hub which has many free resources to help you build capacity in your community.  
Over the next 30 minutes you will develop a better understanding about suicide and reduce the stigma around suicide. We will review some common misunderstandings about suicide as well as determine what we do know about suicide. We will then talk about what we can do to prevent suicide by identifying suicidal thoughts and how to respond.  
The CAST HUB is an online resource hub that provides numerous, free resources to help communities build their capacity to reduce suicide. As well, this presentation helps build understanding about suicide and what we can do to prevent it. Please check out the CMHA NS CAST Program Community-Based Suicide Prevention Resource Hub which has a variety of resources, toolkits and information. You can narrow search by looking for information on specific groups such as youth, older adults, LBGTQ, Aboriginal and more. Or you can also find information for different settings such as schools, workplaces, and emergency services.  The website is easy to navigate and there are new resources continually being added.  
We will provide some toll –free numbers that you can call if you or a friend require immediate help. 
We will finish this presentation by identifying introducing you to the CAST HUB and what you can do to continue efforts to reduce suicide in your community.