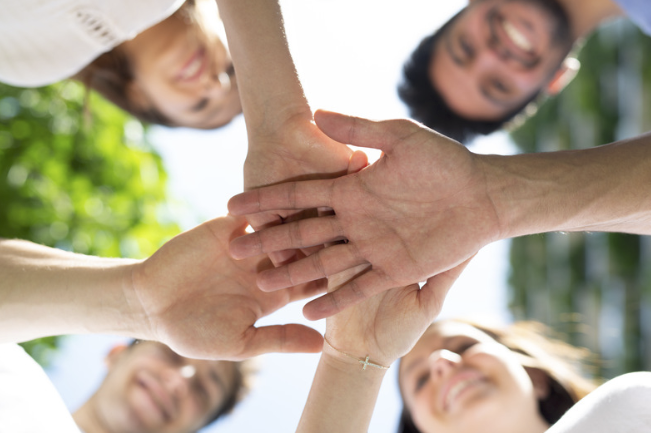 About: Explore friendship and communication in a new way. Strong friendships give us the power to be our true selves; when we have strong friendships, we feel respected and valued.  This guided peer support group will help you learn about yourself, what you say, the way you act, and how your actions can affect relationships with others. Focusing on these aspects, helps us gain confidence in our relationships and we will be more likely to achieve our friendship goals. Connect with us at the Circle of Friends, meet new people, build friendships, and discover peer support in a new way.  CMHA Circle of Friends  offers a safe, confidential place for peers to connect and share their journeys as they offer peer support to one-another.
This group:
Is a safe and accepting space for people with mental health challenges to meet, share, and learn.

 

Supports vulnerable people due to the isolation created by Covid-19. 

Allows people to meet new people, build friendships and relationships.

Creates opportunities to meet new people, build friendships, and relationships. 

 
To learn more or register contact: Keith Anderson, Peer Support Lead at keith.anderson@novascotia.cmha.ca or Dawn Scott, Peer Support Facilitator at dawn.scott@novascotia.cmha.ca 
Details:
Who Should Attend? This workshop is for everyone.

Type: This is a virtual workshop offered over Zoom.

Schedule: Every Wednesday from 10:00 a.m. to 11:30 a.m. AST
---
Meet the Facilitators
Keith Anderson, (He/Him/il) | 
Peer Support Lead – Cape Breton
As the Provincial Peer Support Lead, Keith Anderson facilitates four main support groups with help from colleagues (Circle of Friends, the Men's Peer Support, the Membertou Youth Peer Support and Parents' Supporting Parents Peer Support Group). Keith has 13 years of experience working in the mental health field. He sits on numerous committees and working groups, including the CBRM Diversity Committee and the Commonwealth Lawyers Association. Through his peer support work, Keith dedicates himself to making support systems available to others. When Keith is not working, he likes to go for walks, spend time at the gym, read, and travel. 
Contact Info: Email: keith.anderson@novascotia.cmha.ca | Phone: 1.877.466.6606 ext. 103 | Cell: 782.777.0090 
Dawn Scott, (She/Her/Elle) | Peer Support Program Facilitator – Annapolis County
As a Peer Support Facilitator, Dawn Scott works closely with communities to provide them with the right supports. With 35 years of experience in the mental health field Dawn has dedicated much of her career to mental health because she finds a profound sense of purpose and satisfaction in the work. In addition, Dawn is highly active involunteering with Kings Theatre and the Annapolis District Drama Group. Whether it's acting, directing plays, or scooping popcorn – she's grateful to have so much fun connecting with her community!When she's not working Dawn can often be found swimming, paddling, or cycling around Nova Scotia's shores and lakes.
Contact Info: Email: dawn.scott@novascotia.cmha.ca | Phone: Cell: 902.526.2456