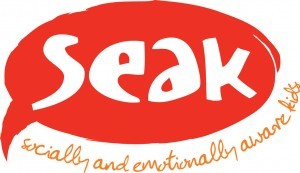 Research tells us that children with social and emotional skills are better able to identify their feelings, manage their emotions, build positive relationships, and do well in school.  Children who receive social and emotional learning instruction develop the social skills needed to successfully manage themselves in society today.
About the SEAK Project
The SEAK Project is working with communities in Nova Scotia, Manitoba, and Alberta to implement a chosen social and emotional learning school curriculum:  Promoting Alternative THinking Strategies (PATHS).  PATHS is an evidence-based elementary school curriculum that focuses on five core areas of social and emotional development:  self-control; emotional understanding; self-esteem; peer relations; and, interpersonal problem solving skills.
The SEAK Project's Goal
The goal of the SEAK Project is to give children the opportunity to develop their social and emotional skills in a healthy community.  This goal is strongly aligned with the Canadian Mental Health Association's vision:  Mentally Healthy People in a Healthy Society.  Using a population health and health promotion approach and a proven curriculum, SEAK aims to strengthen our children's mental health throughout their lifetime.
The Role of the Canadian Mental Health Association NS Division
As the project lead, CMHA NS Division acts as a liaison to all SEAK Project activities while providing leadership to stakeholders and partners.  As SEAK partnerships continue to develop, and new ones arise, stakeholders will collaborate to promote social and emotional learning in communities across Canada.
Research
Through the implementation of the chosen school curriculum, the SEAK Project is evaluating the positive effects of social and emotional learning in the classroom.  In efforts to do so, CMHA NS Division is working in partnership with Dalhousie University researchers to collect data on the long term effects of PATHS, while identifying best practices for introducing a social and emotional learning program in the "real world".  Significant research findings may provide the support needed for social and emotional learning to be recognized as an integral component of learning for all elementary-aged children.
The SEAK Project is a national four year project of the Canadian Mental Health Association NS Division funded by the Public Health Agency of Canada through the Innovation Strategy.
Please visit the SEAK page for more information regarding this project.