CMHA Annapolis is a local organization planning our sixth fundraising event in Annapolis County for the Defeat Depression campaign and are asking for support from local businesses.

We would like you to partner with us in this campaign. We are hosting a 3 km and 5 km walk, a 10 km run, and a 25 km bike ride starting at the Farmers' Market Square in Annapolis Royal on  Sunday, May 28th, 2017.
With your help we hope to raise awareness about depression and reduce the stigma that surrounds mental illness. We are fundraising to support our local CMHA that provides education, support and advocacy to residents of Annapolis County living with and affected by mental illness and/or depression.
For 11 years we have facilitated a weekly Mental Health/Depression Support Group in Bridgetown, attracting members from across the county. In the past 12 months alone, we have welcomed over 80 different people to this group.
Event is a 3 or 5 km walk; 10 km run; 25 km cycle
Registration opens at 9 AM
Walk/Run/Bike begins at 10 AM and will be followed by refreshments
Parking is available
Routes will be well marked, and some maps will be provided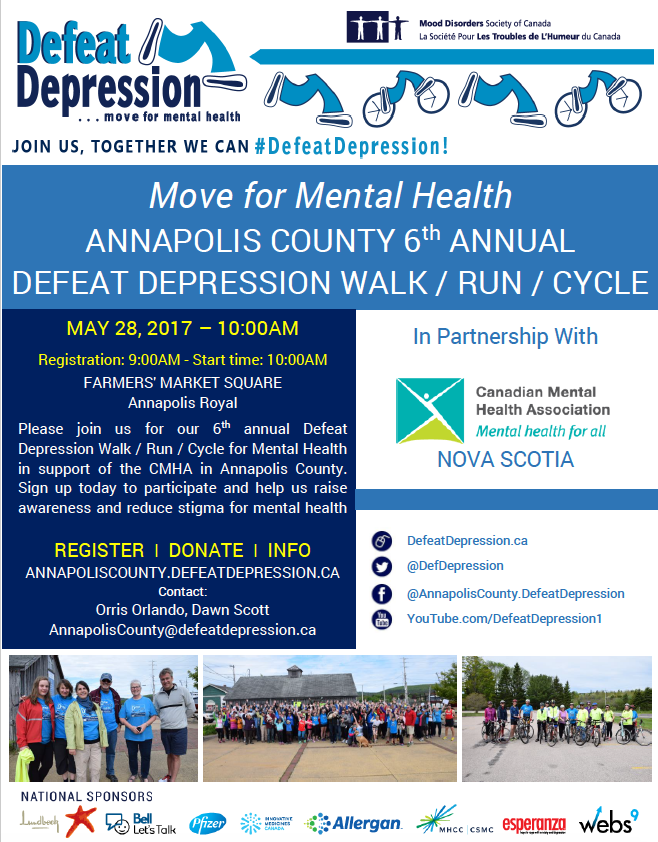 Annapolis County 2017 DD Poster.pdf
Community Sponsorship Opportunities document
For more information: Click Here